The Wizard of Oz
L.Frank Baum with Music and Lyrics by Harold Arlen and E.Y.Harburg
Royal Festival Hall
(2008)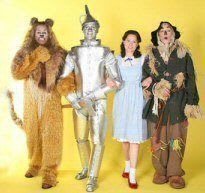 Jude Kelly, the South Bank's Artistic Director has done a great job of bringing a taste of the theatre to the Royal Festival Hall. This stage version of a century-old book that is far better known as an iconic 1939 film should sell out this big venue throughout its relatively short run.
The production manages to keep much of the charm of the film, while injecting a contemporary feel that will appeal to theatregoers of the 21st Century, both young and old.
Michael Vale's design combines simple props, colourful costumes and a revolve with a large panoramic screen onto which cartoon images add immensely to the pace and humour of an evening that eventually comes in at three hours.
Everything about the show is polished. The cast is led by Siân Brooke in the Judy Garland role of Dorothy. Always a reliable actress, Miss Brooke offers a passable Kansan accent and conveys both the certainties and insecurities of a pre-teen. She also proves an adept dancer, although her singing, while not letting the side down, has no great power.
She just about manages to prove the great old adage wrong by maintaining her composure while competing with an adorable crew of rag-doll dressed Munchkins drawn from local schools and Bobby, the impeccably-behaved, snow-white West Highland terrier filling the role of Toto.
The other star of the evening is Gary Wilmot. While Adam Cooper as the heartless Tin Man offers a couple of moments of perfect, if rather gratuitous ballet-tap and Hilton MacRae proves a good all-rounder playing the brainless Scarecrow, it is the Cowardly Lion that we will all remember.
This is because Wilmot acts with real energy and enthusiasm, dances well and offers singing virtuosity that does not seem out of place, even in a world famous concert hall.
The story should be familiar but still gives great pleasure, with its symbolism and morality worn lightly. The feisty Dorothy would rather risk life and limb than let Toto fall into the hands of a mean-spirited neighbour.
A twister-storm carries her away into a colour-coded dreamworld where she teams up with three men modelled on the local farmhands who are, like her, striving for the stars when they should be concentrating on making the most of everyday life.
Together, they follow the yellow brick road on an Arthurian quest to the Emerald City in the land of Oz where they seek Roy Hudd's omnipotent, volcanic Wizard and after many thrills and spills, a happy ending.
In getting there, they have to fight off the cohorts of the Wicked Witch of the West, a gal with a great line in explosive entrances. A very green Julie Legrand clearly relishes the audience negativity in this part but her character is constantly thwarted by our perky heroes and some sparkly red slippers provided by her antithesis, Susannah Fellowes' pink chiffon Glinda, Good Witch of the North.. WWW's final demise is beautifully staged, as she melts away like an unloved green blancmange.
The story is enlivened by some familiar songs well played by the orchestra and great choreography by Nick Winston. Surprisingly, the encore song that everyone goes home humming is not the obvious We're Off to See the Wizard or Somewhere Over the Rainbow but the incredibly catchy Merry Old Land of Oz, that has enough bounciness to be a Spanish holiday Number One, if only someone would add the compulsory bass beat.
This is a show that all of the family will relish, in a top London location, still looking great after its top-dollar makeover.
Until 31st August
Reviewer: Philip Fisher