Romeo and Juliet
William Shakespeare
Mokhwa Repertory Company, South Korea
Barbican Pit
(2006)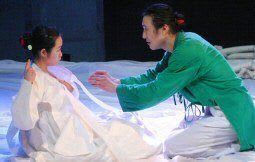 Shakespeare is in South Korea. A Midsummer Night's Dream visited us from South East Asia in June 2006. Romeo and Juliet is the latest arrival, embellishing Shakespeare's universal themes with another culture's symbols.
The courtyard on stage is clearly not Verona; we are in South Korea or thereabouts. Blue and white lanterns adorn the courtyard's wooden colonnade while two sections of the portico are adorned with banners in pastel reds, yellows, greens, whites and blues, which signify unity in the Korean tradition. The canvas on centre stage depicts two snakes with intertwining bodies which create a large circle broken by the two open jawed snake-heads, stretched high. It is a sort of unspoken prologue to the play.
Korean music replaces the chilling opening sounds of rain and thunder. The stage is filled with young Capulets and Montagues who move in a slow but beautifully choreographed dance, which incorporates martial arts and insinuates the rivalry between the two households.
Between scenes, the stage props seamlessly gauge the change in mood without disrupting the strong sense of continuity of the unfolding plot.
Director Master Oh's Romeo and Juliet emphasises the lovers' youth, humour, mischievous and impetuous behaviour. The performance of all actors was engaging.
Kim Mum Jung is one of the best Juliets I have ever seen. Her playful gestures, mischievous smile, the twinkle in her eyes together with her overall demeanour, ignite a believable flame of teenage whole self-absorbed sweet love.
The bedroom scene is simple but inspired. The stage is covered by a lustrous shine of a brilliant white what seems like a Charmeuse silk fabric. Juliet's white traditional Korean dress merges with it. She kneels and lights a scented candle at the centre front of the stage. The brilliant white stage with the dimmed lights and the single candle on a low stand illuminates a meditating Juliet inspiring momentary solemnity. On Romeo's arrival the atmosphere quickly turned into a teenager's playful and humorous encounter, pregnant with allegory.
Master Oh introduces symbolic acts and artefacts which his Korean's audience would appreciate and understand. These are interwoven into Shakespeare's drama with humour. Take for instance, the point when Romeo is desperately trying to undress Juliet: she points at him, requiring him first to let her hair down, then pull off her white boots indicating that he must expose her feet. In the Korean tradition when a woman exposes her foot/ankle to a man she is intimating that he can have her. This production disposes of elaborate speeches.
In Shakespeare's Romeo and Juliet the Capulets and Montagues reach for reconciliation in the face the of their respective tragedies, while Master Oh's ending has a more tragic and, in a way, more realistic verve. Hatred dominates reason and death begets death leaving behind total destruction. Once again the sounds of rain and thunder dominate the auditorium while to a slow dance, resembling a cinematic slow moving scene, a stormy wind blows fiercely at the colourful banners, the very symbol of unity.
This is a stimulating production of a familiar tale which has inspired composers, choreographers, film directors and playwrights for generations. You do not come to see this production for the benefit of Shakespeare's language, though Oh's adaptation was translated by Dr. Ah-Jeong Kim and Paul Matthews who were loyal to the original text, where possible.
Master Oh's production is energetic, imaginative and provides a moving, yet enjoyable evening at the theatre.
I saw this production twice. It is only with exceptionally good productions that one leaves the theatre the second time feeling more inspired than one did the first time! Don't miss it.
The performance lasts 90 minutes without interval.
In Korean with English subtitles.
Until 9th December 2006
Reviewer: Rivka Jacobson