Romeo and Juliet
Compagnie Papierthéâtre
Suspense London Puppetry Festival
Little Angel Theatre
(2009)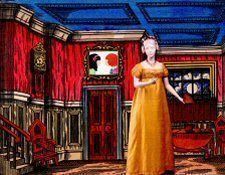 Alan Lecucq, founder of Compagnie Papierthéâtre, is a leading proponent of paper theatre (known in the UK as toy theatre) and one of only a handful of practitioners. The company has come to London under the auspices of the Suspense Festival to conduct a workshop, and give a single performance of their paper theatre adaptation of Edward Gordon Craig's Romeo and Juliet.
Craig was a significant figure in modernist theatre and had a dazzling array of talents: director, actor, scenic designer, artist, engraver, author and writer. Under the pseudonym Tom Fool, he wrote many scripts for puppets in a series called Drama for Fools, of which Romeo and Juliet is one and which Lecucq thinks reflects the misogynistic tendencies brought about by Craig's turbulent personal life and his concerns with the war that was then being conducted across Europe.
This short piece, originally written for traditional puppets of the period, has Romeo standing in a garden offering his devotion to Juliet whose face we see at the window above. She is disdainful of his approaches and each time the backdrop is revolved to reveal the room where she is standing we see the extent of Juliet's duplicity. She is represented at first by a two-faced head mounted on an elaborately curved coat-stand and in later scenes with an increasingly formed body.
Throughout the piece however she remains heartless: she is disparaging of his gift and when Romeo loses an arm in an accident she says she didn't notice. When he arrives in the penultimate scene as a torso in a wheelchair Juliet appears in the garden with a complete body and is unmoved when he falls and then dies beneath her window. The final scene is Romeo's funeral procession, a visually striking succession of mournful black and white woodcut style figures based on Shakespearean characters, the author himself and his acquaintances.
The action of the scenes on the stage is interrupted by other free-standing puppets coming out front and arguing with each other across the setting; out of keeping with the tradition of paper theatre it may be but it is also rather entertaining. On one side there is German theatre director Max Reinhardt and Shakespeare bemoaning what "mutilation" has been done to his play, whilst on the other are the 'rights for women brigaders', amongst them the novelist Harriet Beecher Stowe and Byron's wife, hurling abuse at the men: "You Hun!" shouts one before stomping off.
In spite of being ludicrous it is not unmoving and the metaphor of Juliet's figure parasitically being built up as Romeo's is destroyed is a strong one, reflecting a design that also has Juliet at all times on a larger scale than Romeo. The balance of power here is clear, the personalities being portrayed belying their two-dimensional form.
The technique of paper theatre itself is remarkably successful given its practical limitations. The scale of the proposition means sightlines are challenging and an unhurried pace is enforced by the number of puppeteers that can operate behind the setting. In this instance the action was slowed and further broken up by "intervals" added by Lecucq in which Comedia figures of dancers and acrobats provided visual entertainment. Apart from the change of musical style that accompanied these interludes their colour, movement and frivolity highlighted the tragedy that was being played out in shades of grey behind the paper curtain.
In this multi-media world there's no denying that paper theatre lacks an immediate impact but in reality it is a case of what you get out being in relationship with what you are prepared to put in. The stage dimension requires audiences to be small in number and there is a certain appeal to the closeness of the audience to the action and the sense of intimacy resulting from the scale of the activity. Its strength is not in its size. Its simplicity is conspicuous and ably demonstrates how little is needed to crank up the imagination, create an effect or evoke an emotion.
Suspense London Puppetry Festival has been running in seven venues across London
Reviewer: Sandra Giorgetti