Double Feature 4 - There is a War
Tom Basden
National Theatre Paintframe
(2011)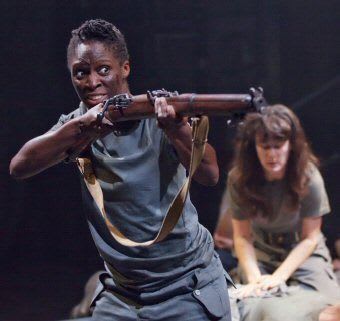 Actor/playwright Tom Basden, who also appears in a supporting role, has his own singular style of humour. He specialises in drawing laughs from non-sequiturs, vocal tones enhancing bland statements and situations that do not on the surface seem designed for comedy.
There is a War, playing alongside Nightwatchman, features a bloody conflict between indistinguishable Blues and Greys (in a parallel contemporary England judging by the accents, not Civil War America), though eventually, Reds and Oranges also make brief appearances.
Inhumanity seems to be the order of the day, as we are guided through numerous battles by a Doctor, Phoebe Fox's rather posh Anne. Quite how she ended up in the army is unclear but having got there, the plucky medic suffers almost as much as the frontline combatants.
For a little over an hour, she picks her way through blood and gore on both sides of a front line, which seems to be located exactly where she grew up.
Along the way, Anne meets new recruits, torturers and body clearers, her journey culminating in the play's best scene in an anarchic hospital where normal logic has been replaced by a very different version.
The audience reaction varied between delighted and bemused at comedy which can be obscure, funny, anarchic and some might believe tasteless. Fans of Radio 4's Party, which Basden also wrote, will love it.
Reviewer: Philip Fisher