Women Beware Women
Thomas Middleton
RNT Olivier Theatre
(2010)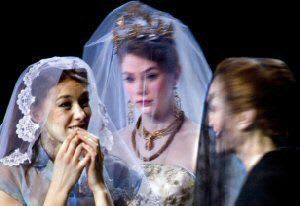 Revenge tragedy is never easy to present to 21st Century audiences but Marianne Elliott manages to keep a straight face through the excess and makes us care about characters who could seem to have all of the one dimensionality of those in a pantomime.
Miss Elliott's vision of the play could hardly be more different than that of Jesse Berger's intrepid Red Bull Theatre in New York a year ago but is equally enjoyable.
She achieves this in large part by using great style. The main actors are dressed and quiffed for the 1950s and there is a jazz accompaniment but even so, you never forget that the play was written only a few years after Shakespeare's death.
Lez Brotherston uses the Olivier's revolve well, one side of a giant Roman arch representing the ordinary man and the other noble opulence. All is lit beautifully too, by Neil Austin.
Women Beware Women is a classic of the genre based on a true Florentine story from the days when the Medicis wrote their own rules with morality best observed in its breach. It might best be described as a kind of cross between Les Liaisons Dangereuses, Measure for Measure and The Duchess of Malfi.
Two innocent 16 year olds, Bianca and Isabella, played by a pair of faces fresh to the London stage, Lauren O'Neill and Vanessa Kirby, seem to be set for early marriage, the former to a hapless clerk, Leantio given earnest humanity by Samuel Barnett. The far wealthier Isabella is promised by her foolish father (James Hayes) to the equally foolish but wealthy fop, Harry Melling's most amusing Ward.
In the real world of the early 1620s, marriages would run smoothly even in Florence and, in time, ladies like these would produce babies on a regular basis. However, this is revenge tragedy and soon subversion appears in the persons of a quartet of older aristocrats with time on their hands.
Harriet Walter excels as Livia, an aunt who coolly destroys both young women with the help of Andrew Goodall's Guardino. First, she procures the newly married Bianca for the evil, lecherous Duke, who had spotted her in a Cinderella moment gorgeously visualised as Richard Lintern made a spectacular entrance in a shower of golden fairy dust.
To compound the first sin, a simple lie from Livia persuades Isabella to ditch the fop and fall for her handsome uncle Hippolito, played by Raymond Coulthard.
By this stage, poor Cupid must have sore arms from so much use of his bow and arrow but in the final scene, it is the grim reaper, served by a quartet of sinister dark angels who holds sway.
In a gloriously realised step of the imagination, a stream of murders, worthy of Hamlet and occurring with as much rapidity, take place during a stylised dance of death, perfectly choreographed to Olly Fox's jazz soundtrack.
This type of play may not be to everybody's taste, but the cast and creative team do everything so well, from clarity of speech to enjoyable clowning and realistic portrayals which make the loss of innocence and excesses of evil plausible, that Women Beware Women becomes a real treat.
The other good news is that thanks to Travelex and their latest £10 season, the three hours represent remarkable value for money beating the cinema or football ground hands down.
Reviewer: Philip Fisher