13
Mike Bartlett
RNT Olivier Theatre
(2011)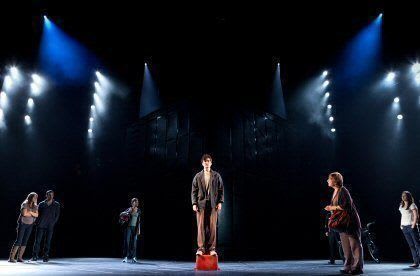 If anybody is considering endowing a prize for the most ambitious play of the year, they can now instantly cut the shortlist to one.
For viewers who thought Mike Bartlett's last play Earthquakes in London, also at the National but in the smaller Cottesloe space, was impressive in its scope, 13 will come as a revelation.
In just under three hours, the playwright attempts to encapsulate the state of the nation on stage with the aid of his director Thea Sharrock and a large ensemble cast, many of whom play multiple parts, led by Geraldine James and Trystan Gravelle.
This is very much a play of distinct halves. Before the interval, following an opening Laurie Anderson style musical meditation on dreams, we are introduced to a rich panoply of characters representing almost every aspect of life in Britain today (and there are many references to contemporary events that must have been inserted since the script was originally written).
At one end of the scale, we have Miss James as caring, Conservative Prime Minister Ruth spouting senseless platitudes that could as easily have come from new Labour as one of today's governing LibCons.
The Americans are represented by a seemingly happy and ridiculously intelligent born-again Christian family. This consists of patriarch Dennis (Nick Sidi) who is a secret ambassador representing his President, lovely wife Sarah (Genevieve O'Reilly) and their terrifyingly bright and rebellious 11-year-old daughter Ruby, played on opening night with great composure and wit by Jadie-Rose Hobson.
The catalyst for a potential revolution is Gravelle's intoxicatingly calm and messianic John, a philosophical cross between Jesus and Gandhi, with strange abilities both as a clairvoyant and miracle maker.
After possibly putting a common dream into the minds of the nation, he commences his conquest of the people by talking to an audience of none from an upturned plastic buckets in Hyde Park. Gradually, with the aid of every networking tool currently available, John builds a following that swiftly moves beyond the deranged to the dispossessed and eventually, the common man.
During this process, we meet many fascinating representatives of ourselves. These include, inter alia, an unemployed lecturer and his strident girlfriend, the latter given an excellent spirit by Kirsty Bushell; Adam James as a lawyer with a coke habit who has a strange relationship with Laura Rossi's Holly, a part-time prostitute and John groupie, her jogging, amnesiac granny and a bevy of surprisingly depoliticised prime ministerial acolytes.
John's ability to garner disciples quickly attracts the attention not only of the media but also the PM herself, who, in an embarrassingly coincidental plot twist, happens to know the young man well enough to invite him to 10 Downing Street for a debate.
Much of the second half of the play is more static, as John and Ruth enter into ethical discussions about the merits of invading Iran to prevent the possibility of nuclear war. What is the value of one life or one thousand, Bartlett asks through these mouthpieces, and can peaceful protest achieve the same goals as invasion? What would be a bipartite discussion is then spiced up by the fiery views of anti-religious interloper Stephen (Danny Webb).
By the end, almost all human life has passed in front of our eyes and much of the meaning of existence been considered in some depth without necessarily reaching any very firm conclusions. However, viewers will be dazzled and challenged by the experience, the pacing assisted by Miss Sharrock's effective overlapping of scenes, not to mention pleased by the Travelex sponsorship that reduces the price of half of the tickets each night to £12.
Nobody else writes plays like this and therefore theatregoers in need of a little intellectual stage stimulation or subject matter for a dinner party would do well to trek down to the South Bank and watch the Messiah and his disciples in action.
"13" is booking until 8 January 2012
Reviewer: Philip Fisher