A Slight Ache and Landscape
Harold Pinter
RNT Lyttelton
(2008)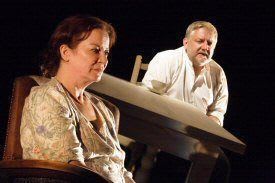 Anyone lucky enough to attend one of the handful of performances of this double bill of Pinter shorts might conclude that they have seen the finest actors currently performing in this country.
Simon Russell Beale and Claire Higgins are National stalwarts. The idea of bringing them together in a relatively obscure programme that would not normally grace this 800 seat theatre, under the direction of the inexperienced Iqbal Khan, must have seemed far-fetched but is a great success, showing all parties off to tremendous advantage.
A Slight Ache
This domestic comedy, played out on Ciaran Bagnall's attractive revolving set, apparently lasts for 66 minutes. That is plenty of time to poke gentle fun at the Home Counties set with their pretensions and set ways.
Edward is self-satisfied and bombastic with a sadistic streak. His supportive but bored wife, Flora is well-named with her horticultural interests.
By the time that they have done away with a wasp over breakfast, you feel that you know vast amounts about the two of them and a marriage that has been going on far too long.
The joker in the pack is a sinister match seller. Jamie Beamish works very hard in the role of this silent, shambling ancient who insidiously worms his way into their lives. He it is on to whom the equally self-centred couple project their prejudices and predilections, building to a wry ending to the play, and one suspects, the marriage.
Landscape
The second play works well as a complement, with similar themes of worn-out marriage and sexual frustration. This time however there is no external catalyst, merely chatter between the pair who sit poles apart at either end of a long kitchen table.
They have been left alone in a luxurious home by the death of their former boss but such is the contempt brought about by great familiarity that neither can enjoy the domestic bliss.
Russell Beale, now sounding like one of the East End Jews that Pinter grew up with, plays Duff, a domestic with little small talk but an interest in eccentrics and beer production.
As he delivers what becomes a monologue due to the lack of reaction from Miss Higgins as his wife, housekeeper Beth, she romanticises over an encounter on a beach with a man who clearly excited her far more than hubby does.
This pair of plays allows both actors to display performances that at the very least border on brilliance. Every word and movement seems planned as they make sense of texts that could easily baffle, especially Landscape, which is built on non-sequiturs.
If you want to see acting at its best, get down to the National where two true stars can be observed under a very exacting microscope. You will not be disappointed.
Reviewer: Philip Fisher