The Alchemist
Ben Jonson
RNT Olivier
(2006)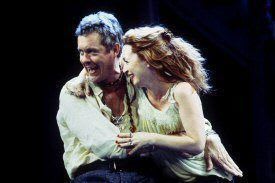 National Theatre director Nicholas Hytner's modern-dress version of Ben Jonson's comedy farce features some great moments and, as one would expect from this starry cast, high-quality acting. By the end, though there's a feeling that the director has not quite pulled off the feat of sustaining the impetus for the three-hour duration.
The first plaudit for the National is that they have managed to present an A-list cast for a play in the Travelex £10 season, where two-thirds of the tickets are available for a tenner and none costs more than £27.50.
The Alchemist is a tale of three rogues who take over a gentleman's London house while he is sheltering out of the city from the plague. They set themselves up as chiromancers and alchemists looking for gulls to con out of their hard-earned sovereigns.
In the London of the early 17th century, there was a plentiful supply of mugs and 400 years on, Hytner visualises their equivalents to include an Asian shopkeeper, a pair of born-again Christians and a brother and sister who want to "get down" with the best of them.
Alex Jennings is Subtle (anything but), The Alchemist, a conman who sports the Michael Gambon drawl amongst friends but constantly reinvents himself for his public. This requires quick changes of both clothing and persona as he switches from Californian hippie to beguiling Scot or posh Englishman. Eventually, there is a feeling that at times he is sending up his roles to a rather greater extent than is entirely necessary.
Simon Russell Beale as Face also gets plenty of opportunities for role-play and relishes the challenge. In particular, when Jennings is The Alchemist, he hilariously turns into a Bavarian boilermaker who looks like a cross between Dick Dastardly's Muttley and Toad of Toad Hall. At the end too, when the police finally turn up along with his boss, he makes a fantastically meek but very believable Jeremy, the butler/housekeeper.
The final member of the triumvirate is Lesley Manville playing Dol Common. She achieves pathos by demonstrating that her character is at least a little in love with each of her compatriots. Miss Manville also enjoys the multiple roles switching from sluttish brothel madam to society grande dame with effortless ease.
Their fire is almost stolen by a lovely cameo from an unrecognisable Ian Richardson playing the wonderfully-named, hedonistic sensualist Sir Epicure Mammon. This "gentleman" falls down because his Midas-like desire to see The Alchemist convert base metal into gold is pushed off course by waves of lust for Dol.
There may well be a hung jury on both Nicholas Hytner's modernisation and Mark Thompson's revolving set, primarily featuring an open living-room. The contemporary setting eases the understanding and allows for some amusing allusions. It seems hard to believe that John Prescott and Joan Collins appeared in the original. However, some of the original nuances must be lost by taking the play out of its own time.
Finally, the conclusion must be that this play represents a mixed blessing because there are sections that fall flat, sometimes because of excessive caricaturing.
On the plus side though, this new version of The Alchemist gives some fine actors the chance to show off much to the delight of their audience and contains many moments of high comedy, never more so than when the furnace explodes and a tottering Simon Russell Beale emerges from the smoke.
Reviewer: Philip Fisher