Blood and Gifts
J T Rogers
RNT Lyttelton Theatre
(2010)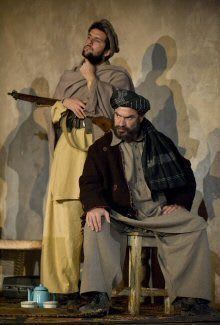 Blood and Gifts by American playwright J.T.Rogers first saw the light of day as part of The Great Game : Afghanistan at the Tricycle last year.
Then it was only around half an hour in length and formed part of a twelve episode history of that troubled country. The National, with the assistance of director Howard Davies and designer Ultz, who provides one of his characteristic functional, industrial chic sets, has extended it to around five times that length.
The effect can be a little odd for those that remember the original, as ideas are explored in greater depth and characters developed to create a new work that still has original sections interleaved.
With its short scenes, Blood and Gifts has the feel of an espionage film or TV series, though with its concentration on behind the scenes negotiations and personal strains, it is much more Greene or Le Carré than Ian Fleming.
For the most part, Rogers offers a good perspective on a country at war that, even twenty years after the end of the troubled decade depicted, is still claiming victims on a daily basis. Indeed, much of the play's irony lies in the mistaken belief of outsiders that each succeeding diplomatic coup will lead to lasting peace.
Rogers allows us to view the period of Russian occupation through the eyes of diplomats (spies in reality) and rebels. The main figure is introduced as an American educationalist. In fact, the excellent Lloyd Owen's consistently calm and resolute James Warnock is the CIA's head of mission based in Pakistan.
He finds himself surrounded by excitable types, with the single exception of his maudlin Russian oppo. Dmitri Gromov is played with dry wit by Matthew Marsh in an evening where the internal complications of this tribal country are leavened with much-needed humour.
Adam James plays Simon Craig, the noisy and not wholly credible Brit, who seems bitterly isolated from family and colleagues and cannot stop spouting rubbish, seeming close to a breakdown throughout.
Strangely, Warnock's closest bonds over the ten year period is built with a noble warlord, Abdullah Khan played by US import Demosthenes Chrysan, and also his fiery right hand man, Philip Arditti's Saeed.
Throughout the period, they provide information about the Americans' Pakistani allies in exchange for weapons and Olivia Newton John tapes. Afghanistan's tragedy is encapsulated in the way that they unashamedly aim the former at their fellow countrymen from rival factions rather than the Russians who are ostensibly the country's primary threat.
In addition to political and diplomatic machinations both in and out of the public eye, Blood and Gifts expands the themes of family, paternity and succession.
Like those of international sportsmen and entertainers, the wives of spies are left alone for most of the time, leading to obvious strains. One of these relates to "begetting" heirs. This might be sacred to Islamic warriors but has nearly as much significance for their Western counterparts, whatever their religious beliefs or denials.
At 2¾ hours, there are a few too many superfluous scenes and threads that do little to advance the main story. However, the chance for an important and unfortunately still highly topical political play to be seen by larger audiences at the National Theatre and, in time at Lincoln Center in New York which commissioned the new version, is greatly to be welcomed.
Reviewer: Philip Fisher