Earthquakes in London
Mike Bartlett
RNT Cottesloe Theatre
(2010)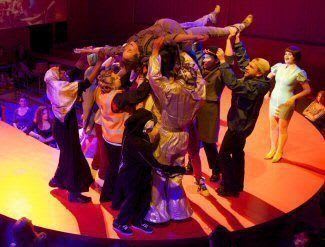 It is getting quite hard to find fresh superlatives for productions at the National this year. Perhaps the best measure of Nicholas Hytner's success has been his ability to commission exceptional new writing in the smaller Cottesloe Theatre.
Mike Bartlett has written much good work in the past but never on this scale. Earthquakes in London is a Monsterist play featuring that genre's trademarks of major themes and a big cast. It is good enough to compare favourably with the best of Sir David Hare's issue-led plays, which might well be its progenitors.
On this occasion, a strong script is immeasurably improved by the direction of Headlong's Rupert Goold on the form that won him so many awards for Enron.
The staging is quite incredible, with the audience not only surrounding the actors on Miriam Buether's set but snaking between them on bar stools. The cast disport themselves on an orange catwalk that might be close to 100 metres in a straight line and also in two widescreen picture windows, one at either end.
In addition to the drama, the evening is spiced up by song, dance and all-encompassing video so that at times one could almost be out clubbing.
For 3¼ hours, a massive cast explores the impending crisis that arguably threatens the future of the planet, global warming.
It does so through the medium of three generations of a disjointed family, seen at various periods from the innocent days of 1968 to the dystopian disasters of 2525.
Bill Paterson plays father Robert, though Brian Ferguson takes over for the early days. He is a highly intelligent and idealistic climatologist whom, it is suggested, sold out to commercial temptation and, as a result, prevented the planet from opposing global warming when his actions might still have made a difference.
His guilt manifests itself by his abandonment of three very different daughters after their mother's premature death.
Lia Williams' Sarah is that ultra-modern invention, a LibDem minister in a Tory Government. Somewhat ironically, she holds the environment portfolio and faces similar temptations to her old Dad. She also struggles to hold together her marriage to a dreary unemployed banker played by Tom Goodman Hill.
The excellent Anna Madeley plays the most significant role, that of pregnant middle sister Freya. She bears the next generation but also the guilt of the world on her shoulders, making life impossible for husband Steve (Geoffrey Streatfeild).
Jessica Raine's Jasmine is a wild child, still only nineteen and trying to live life to the max, ignoring the consequences.
Their family traumas are all too believable and hold the attention but gradually the issues that they face pale into insignificance, as they and we are forced to confront what might be a doomsday scenario.
Rupert Goold's production, performed by a tremendous cast, pulls together what might in other hands have seemed a rambling script, allowing scenes to overlap and intelligently using humour to lighten what could be a terrifying vision of our future.
Earthquakes in London might be a draft away from perfection but it is a massively ambitious, thought-provoking piece of theatre. The possibility to see something of this scale and quality justifies every penny of subsidy that the National currently gets and should continue to receive wherever other cuts might be made.
Playing until 22 September.
Reviewer: Philip Fisher