England People Very Nice
Richard Bean
RNT Olivier
(2009)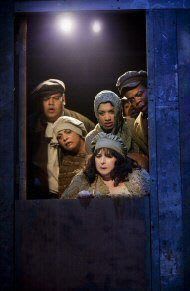 We may not have reached mid-February yet but already, it is hard to imagine that any play will prevent England People Very Nice from emulating the same writer's Harvest by becoming Best New Play at assorted year-end awards ceremonies.
Richard Bean has long been a leading light in the Monsterists, advocating big plays with ambitious subject matter. This might be the ultimate example of the genre.
Nicholas Hytner has given Bean free rein and is rewarded with comedy that has an almost Shakespearean sweep, not only anatomising multi-cultural Britain today but contextualising it with a great deal of historical comparison.
With the aid of animations designed by Pete Bishop, around 5,000 years of British history are covered in a Terry Gilliam style taking no more than a minute. The next 400 are given the comparative luxury of three more hours packed with information and more laughs than seem possible in a work with such a serious underlying message.
As Bean announces at one point through the mouth of a character, this is a play about the relationship between immigration and love, though hatred intrudes almost as often.
The themes repeat throughout, starting with the unwelcome arrival in Bethnal Green of the Huguenots. They are then succeeded amongst others by Irish, Jews, Bengalis and most recently Somalis.
Hytner makes the most of a large, multicultural ensemble cast, who in Our Country's Good fashion represent the occupants of an immigration centre whose need to kill a few idle months is satisfied by the creation of a community play.
While they await the thumbs up or down from the Home Office, the occupants of this metaphorical melting pot represent their own history on stage. In doing so, they are accompanied by a quartet of spirited musicians employed to encapsulate the time and community currently in the spotlight, using everything from folk and Klezmer to Bollywood and rap.
There are common threads amongst the wide variety of invading peoples, primarily represented by two couples. At the younger end, Michelle Terry plays a home-grown English lass torn between her obnoxious, xenophobic boyfriend and through the centuries, a series of desirable incomers, each played by one of Hytner's old History Boys, Sacha Dhawan.
Rather older but equally colourful are the loudly swearing Ida (Sophie Stanton) who makes a great comic double act behind a typical pub bar with an immaculate salt of the earth straight man Laurie, played by Fred Ridgeway.
Around them, communities arrive, get attacked, assimilate and then take umbrage against their successors. Over a period, everyone will become a local and for better or worse, move out to Redbridge to make way for the next wave of immigrants.
While the jokes are often corny, offensive or in bad taste, they are incredibly funny and always perfectly delivered. The humour also helps to illuminate the times and lighten the mood of an evening that could easily have come over as a dry but dull history lesson.
Instead, England People Very Nice is an astounding feat that says more about our country and its people than any number of worthy documentaries. Richard Bean has been promising to write a play like this for ages and to present it on a main stage at our National Theatre under the careful eye of its Artistic Director is good for all concerned.
To make the experience even more pleasurable, the play is part of the Travelex £10 project with around half of the seats priced at that level and many more at £15. You cannot afford to miss it.
Booking until 30 April
Reviewer: Philip Fisher