Exiles
James Joyce
RNT Cottesloe
(2006)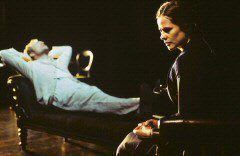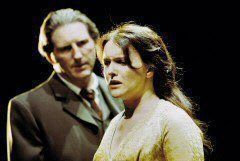 Judging by James Macdonald's languid and sometimes ponderous new production of this rarely performed play, last seen in London in 1970, directed by Harold Pinter, many might be tempted to assume that James Joyce was better suited to the written word than creations for the stage.
Thanks to designer, Hildegard Bechtler and her lighting colleague Peter Mumford, the lengthy discussions that make up this play take place in scenes that could be drawn from paintings.
Of the three acts, the first and last in a family living-room have the aura of the Pre-Raphaelites, while the middle one in a cottage commences looking like an Old Master, possibly Flemish and then develops into pure Hopper.
In just over two and three quarter hours, the action is minimal and it is in the discursive speech and ruminations of the key actors that the writer's debate on different attitudes to life and morality are developed.
Exiles is a comedy according to its author in the same way as Ibsen's plays are comedies i.e. you wouldn't realise this from the grim drama unless the writer told you. It is set in 1912 in the suburbs of Dublin and for those familiar with the works of Joyce, there are echoes of some of his novels and stories.
The centrepiece is a love quadrangle in which none of the participants is particularly happy or certain of the outcome that they would desire for themselves or their fellows. This must largely represent the writer's own uncertainties, since there seems little doubt that the two major male parts, Richard Rowan and Robert Hand, each contain significant, contrasting elements of James Joyce himself.
Author Rowan, played by Peter McDonald, had caused a scandal nine years previously when he ran off and married Bertha, a young girl whom he had got pregnant, played by Dervla Kirwan. The play commences on their return to Ireland from a lengthy exile in Italy with their precocious son, Thomas Grant's Archie.
Their life begins to get complicated as Rowan looks for work but also enjoys the chance to charm his son's young Protestant piano teacher, significantly named Miss Justice and played by Marcella Plunkett. For reasons that are not entirely clear, he also encourages his wife to renew her acquaintanceship with Adrian Dunbar as leading journalist Hand.
Whether Rowan's motives are a strange pleasure in seeing his wife seduced, an excuse to get closer to the governess or attempts to derive material for his novels is not clear. The likelihood is that it is some combination of all three.
At various points, dialogues take place between the various pairings that can be made of these four people with occasional intrusions from young Archie. These build pictures of a group of unhappy Bohemians, who having tried out some daring experiments do not know where to go next.
Despite the efforts of a cast including some of the best Irish actors currently to be seen in the UK, one cannot help thinking that Exiles would have been far better placed as an extra story in Dubliners or possibly a novella, rather than the static series of conversations that rarely fire up its audience.
Reviewer: Philip Fisher