Fram
Tony Harrison
RNT Olivier
(2008)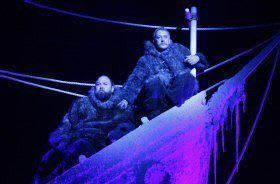 Just at the moment, the otherwise incredibly reliable National is not having too much luck with the historical plays that it has commissioned from venerable alumni.
Following Howard Brenton's Never So Good, which failed to make Harold Macmillan scintillate, Tony Harrison baffles with his portrayal of a frosty Fridtjof Nansen.
For those who did not know, Jasper Britton's colourless Nansen was a fin de siècle polar explorer who nearly made it to the North Pole but soon gave up top spot in this league to his fellow Norwegian Roald Amundsen who did reach the southern equivalent.
From there, Nansen recreated himself in the role of what would now be known as a Human Rights Ambassador, campaigning on behalf of starving Russians during the famine of the early 1920s.
Fram, the name of the explorer's ship, means "forward" in Norwegian, which is ironic since this play, jointly directed by the writer and his intermittently brilliant designer Bob Crowley (his frozen ship is a real eye-opener), spends far more time travelling in circles than advancing.
It starts promisingly with the resurrection in Westminster Abbey of the long-dead Greek scholar, Gilbert Murray and the actress (Dame) Sibyl Thorndike. Jeff Rawle is suitably straight-laced in the former part, while Harrison's partner, Sian Thoma,s has great fun as the flighty ghost, desperate for a few more moments in the limelight.
Indeed, Miss Thomas is given a great poetic tour de force brilliantly demonstrating that you don't have to be skeletal to act out starvation, famine being a recurring theme in Fram.
This is one of numerous interludes, the artiest (if hardly the most relevant) of which is a balletic solo from Viviane Durante, while several vie for the prize of most gruesome.
After the comedy of the ghosts, the story of Nansen would be deadly dull but for his lugubrious sidekick, Hjalmar Johansen, on this occasion a hilariously bluff Yorkshireman played with gusto by Mark Addy.
Tony Harrison is probably the last living playwright who writes in verse and, at times, does so with real flair. One just wishes that he had chosen a better and more coherent subject for a three-hour play on one of the country's premier stages.
Reviewer: Philip Fisher