The Life of Galileo
Bertolt Brecht, in a version by David Hare
RNT Olivier
(2006)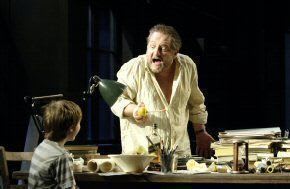 For those who enjoy cerebral dramas, Howard Davies's revival of Sir David Hare's version of Brecht will undoubtedly prove a veritable delight. Even better, thanks to Travelex, two-thirds of the seats are available at only £10.
Simon Russell Beale yet again demonstrates his great versatility as an actor, playing one of the great scientific geniuses in a modern-dress version that makes him seem far closer to the actor's performance as witty, unworldly philosopher, George Moore in Jumpers than one of Galileo's philosophically-minded contemporaries such as Hamlet.
The play opens in 1610 as Galileo Galilei tries to combine what is now known as blue-sky thinking about what is above the blue skies with efforts to make ends meet, most amusingly as a high-class conman "inventing" the telescope despite the fact that it already existed.
His problem is that his finest ideas are regarded as heresies by a Catholic Church keener on protecting its own position than advancing knowledge. Much of the play is devoted to a series of debates in which the merits of religion and reason fight an uneven battle for supremacy.
The advocates of reason may have science and logic on their side but, as poor Giordano Bruno, whose ghost hangs over Padua, Florence and Rome where the play takes place, found out, the dictatorial or possibly even totalitarian Catholic Church had the Inquisition and no qualms about condemning its enemies to lifetime flames and eternal hellfire.
Even in this dangerous atmosphere, Galileo has an internal compulsion to prove that his discovery that the Earth is not the centre of the universe but travels around the Sun is correct.
While doing so, he condemns himself and his eclectic group of acolytes to constant danger. All three actors in this group have opportunities to shine. Bryan Dick is his servant's son Andrea Sarti on whom he started young, Zubin Varla plays a shamed monk with a thirst for knowledge and Dermot Kerrigan embodies Federzoni, a plain-speaking lens grinder.
That is one of Bertolt Brecht's strengths in this play. While the central character gets many good lines and the lion's share of opportunities, the three-hour duration allows many of Russell Beale's ensemble colleagues including Oliver Ford Davies as The Cardinal Inquisitor, Duncan Bell as Segredo the friend who listens to his ideas, Julia Ford as Andrea's mother and Andrew Woodall as Barberini who later became Pope Urban VIII, their moments of glory.
The Pope, who is something of an amateur scientist himself eventually moves centre stage when, despite his better inclinations, he forces Galileo to recant his views and deny what he knows to be true. Sadly, when all of his followers, many of his countrymen and the whole audience will Galileo to show bravery, this man who always hankered after the better things in life had few qualms about betraying his idea.
Almost forty years on from the starting point of the play, now old and blind, our hero does at least get the last laugh and 400 years further on, it is he that is remembered by posterity rather than his jealous rivals.
Simon Russell Beale inevitably does this very human genius justice as a man who favours oysters over pearls and reason above everything except the threat of pain, in yet another performance that will garner a stream of Award nominations.
Brecht can be a rather forbidding, politically-obsessed playwright and many of the issues that he addresses in this play, originally completed on the eve of World War II but developed over the ensuing decade, subtly support his political agenda. However, thanks to an accessible modern translation, pacy direction and Bunny Christie's attractive set, combining mix-and-match walls with the skeleton of an observatory's roof and allowing fast scene changes, the three-hour drama with two intervals flashes by.
The mark of a certain genre is that one is able to learn a great deal, in this case about science, while enjoying a re-creation of the lives of a group of people who seem infinitely human. That is exactly what this superb evening's entertainment offers. Hurry along, those £10 tickets will inevitably disappear in no time at all.
Reviewer: Philip Fisher