Gethsemane
Sir David Hare
RNT Cottesloe
(2008)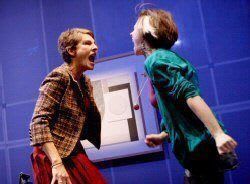 Why do politicians have families? Meredith Guest, a hard-nosed Home Secretary if ever there was one, must have asked herself this question as often as so many of her real life equivalents, including most recently the soon to be forgotten Alaskan, Sarah Palin.
The topic is hot in London theatrical circles at the moment, as a politician's embarrassing teenaged child is also the dramatic force behind Christopher Shinn's Now or Later, which recently had a successful run at the Royal Court.
Meredith fares even worse than the average, as not only is her husband about to be indicted for dodgy business dealings in the East but her strong-willed, rebellious 16 year old daughter Suzette has been kicked out of an expensive school in SW7 for smoking a spliff a little too publicly.
Sir David Hare last wrote a state of the nation play of this type, Absence of War, after the Labour party had failed to oust the Tories for the last time.
Gethsemane looks at the dying days of an administration remarkably like that of Tony Blair, here represented by Anthony Calf's ruthless but attractive Alec, a man given to taking out his frustrations on a loud drum kit.
On a personal level, the central figures are Meredith, played by Tamsin Greig, and Lori, the former schoolteacher called up in an act of desperation when Suzette will neither respond to bullying nor the persuasions of the smoothest of spin doctors. Unlike Alistair Campbell, this ministerial "adviser" Gugu Mbatha-Raw's Monique Toussaint, is a sexy female successor to the mantle of Sir Humphrey Appleby.
Nicola Walker's Lori is a genuinely decent woman beaten down by the administrative burdens of today's education system. She is still able to empathise with mother and daughter (sulkiness personified in a strong performance from Jessica Raine) as well as delivering a mean blackmail to an odious journalist, the Dickensian-named Geoff Benzine, for light relief.
At the political level, sliding in the polls, PM Alec has lost faith in the old guard led by Meredith. He now relies increasingly on a bearded fixer named Otto Fallon (Stanley Townsend) who, with a background in the music business and lotteries, might just owe something to the founder of the Virgin empire.
Howard Davies ensures a pacy production that rarely lets up, aided by Bob Crowley's seemingly bland set, which livens up when films are projected on the walls. It also effortlessly transforms itself into a court for a game of ball-less squash.
That symbolically pits the invincible Otto against Lori's husband Mike, a decent bloke who seems unworldly in the company of vipers like Fallon and his valet/lover (?), Pip Carter as Frank. Like far too many political hangers-on who have now been investigated by the authorities, their purpose in life is to raise money for the Party through the offer of meetings with Alec and the benefits of "a business-friendly environment".
Eventually, Sir David's authorial voice begins to leak out of his characters' mouths on a pretty much constant basis, as he attacks the cynicism of politicians (and journalists) today. In doing this though, he does dazzle with rich, aphoristic language and opinions that shed light on many of the characters' (and his own) pet hates.
Gethsemane is a wickedly entertaining but heartfelt drama that ruthlessly indicts the political landscape of New Labour and in doing so should sell out this run if it hasn't already done so. It must surely also be destined for a transfer on to a bigger South Bank stage in the New Year.
Peter Lathan reviewed this production on tour in Newcastle
Reviewer: Philip Fisher