Greenland
Moira Buffini, Matt Charman, Penelope Skinner and Jack Thorne
RNT Lyttelton Theatre
(2011)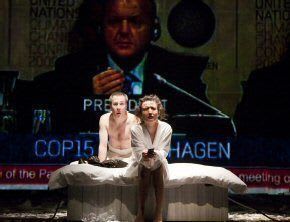 It is very rare for a collaboration between playwrights to prove wholly successful. Almost always, the joins are all too visible and the quality of the final piece variable at best.
On this occasion, the National has commissioned a team of four highly promising younger writers to work together in an ambitious experiment that deserves to pay off.
While Greenland may not be perfect, it is such a powerful work on an important theme that its weaknesses can quickly be forgiven. In this, the excellent direction of an ensemble cast by Bijan Sheibani is a big help.
So too is an imaginative design concept from recent Critics' Circle award winner Bunny Christie. This always complements the drama's themes and presents moment of rare beauty and visual comedy with the assistance of videos created by Finn Ross.
In particular, a rampant polar bear is so lifelike that anyone in Row A would have been justified in fleeing, while a simple but highly effective coup de théâtre brings down the final curtain in fine style.
Greenland is a play about our selfish behaviour that could lead to the end of the human race by the end of the century, if the computer model designed by Dan, a scientist played by Peter McDonald, is correct.
He presents his theories on global warming to Lyndsey Marshal's Phoebe, an Ed-ette who spends her life trailing round in the slipstream of the younger Miliband providing breathless advice. This couple, who get together (in every sense) at a climate change conference in Copenhagen, provide the main strand that supports a wide-ranging but sometimes rambling investigation into the impact of climate change on the planet but also a selection of individuals.
Their polar opposite might be Harry, an ageing explorer played by Michael Gould, who is witnessing the disappearance of species in the frozen wastes of northern Alaska. His disillusionment contrasts with flashbacks to Sam Swann as his younger self attempting to talk his way from a Walthamstow Grammar School into Cambridge in the late 1960s.
A third angle on this tropical but chilling theme is presented by Isabella Laughland's well-meaning Lisa. Much to her parents' displeasure, she drops out of teacher training college to team up with her Welsh boyfriend Daff in a series of hare-brained attempts to bring down the establishment, before moving on to better quality espionage with Greenpeace.
While each of these groupings sheds light on the subject, a lesbian pairing who do little but whinge about each other and, in passing, the environment and a young man on Deal or No Deal each offer little to the story.
Despite the weaknesses of a script that has not entirely blended into a single unit, Greenland is a meaningful piece of political theatre that makes numerous telling points and in doing so manages to shock and amuse in roughly equal measure.
Booking until 2 April
Reviewer: Philip Fisher