Hamlet
William Shakespeare
National Theatre production
Theatre Royal, Nottingham, and touring
(2011)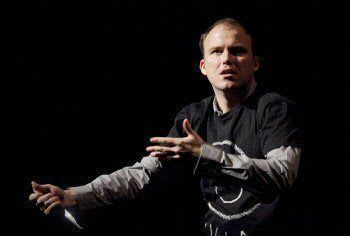 It's nine years since Rory Kinnear last appeared on the Theatre Royal stage. He then played Caliban in The Tempest alongside Richard Briers as Prospero. In those days Kinnear was known more as the son of the late Roy Kinnear; now he's the star, already the recipient of one best actor award for playing the Prince of Denmark and probably destined for more acceptance speeches.
It's not difficult to see why. Right from the first time we see Hamlet, sitting agitated on a chair as his stepfather Claudius dictatorially addresses his people, Kinnear engages with the audience who understand his dilemma. You feel for him when he becomes angry at his mother's re-marriage, his sense of powerlessness seeping into every part of his body. You laugh with him when he clowns around, convincing Polonius he's mad. And you sympathise when first his mother and then his friends let him down.
My colleague Philip Fisher likened this National Theatre production to John Caird's version in the Lyttelton and Sir Trevor Nunn's at the Old Vic. I can see similarities with the RSC production three years ago featuring David Tennant. Both have a modern-day setting of spies and surveillance in which the characters are constantly watched and never know who they can trust.
While the RSC's interpretation featured CCTV cameras, director Nick Hytner's Elsinore is populated by Claudius's menacing Switzers; there's a constant sense that there's no such thing as freedom.
The National's Hamlet shows the benefits of a long rehearsal period. Hytner has assembled a strong cast; on top of that the attention to detail makes the production unforgettable.
Patrick Malahide's first speech as Claudius, "Though yet of Hamlet our dear brother's death the memory be green", is delivered into a television camera deliberately set at a low angle to accentuate the king's lofty status; there's no doubt who's in charge of this country.
Shortly after Claudius has married Gertrude, a huge portrait of old Hamlet dominates the court; by the following scene it's replaced by a similarly sized picture of the new king.
On Laertes's departure for France, Claudius advises him how to behave, instructing him "neither a borrower nor a lender be" - and slips him a wad of notes.
When Hamlet urges Ophelia "get thee to a nunnery", she carries a book which has a transmitter hidden inside it so that Claudius and Polonius can follow what's going on. Such detail is evident throughout.
A number of actors deserve plaudits. Malahide is excellent as the dictatorial figure who's feared by everyone; David Calder's Polonius is stately yet occasionally forgetful, neither a figure of fun nor a frightening spymaster as he's sometimes depicted; and Clare Higgins is a troubled, almost neurotic Gertrude who understandably knocks back a copious amount of alcohol.
James Laurenson gives a spirited performance as the Ghost, although I couldn't help thinking his costume made him look more like a tramp than a regal figure.
There's no doubting, though, that Kinnear is the star. People who saw him at the Theatre Royal in 2002 might be struggling to remember his performance in The Tempest. I doubt if anyone will forget his Hamlet.
"Hamlet" continues in Nottingham until February 19th, then tours to Woking, Milton Keynes, Plymouth and Luxembourg
Philip Fisher reviewed this production at the National Theatre. David Chadderton reviewed this production on tour in Salford
Reviewer: Steve Orme