Hamlet
William Shakespeare
Old Vic
(2004)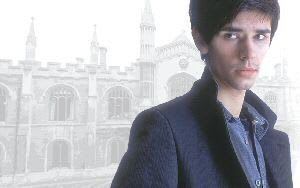 When it was announced that Trevor Nunn was going to try to fill the barn-like Old Vic with a bunch of students playing Hamlet, there must have been great cynicism. Even some of the biggest names in the profession have foundered in attempts to fill this theatre.
Nunn has splendidly proved any doubters wrong thanks to an awesome performance from a 23-year-old in the title role of a gripping 3¾ hour production that rarely goes wrong. There is no doubt that tickets will be very hard to come by and the producers will deservedly get rich on the back of their gamble.
This fresh, vibrant production has far more to commend it than just a single actor. The whole cast is very impressive and Nunn's twenty-first century concept adds new meaning to what must be the most familiar play in the Shakespearean canon. In fact, the modern costume and sound designs and particularly the contemporary body language give a high degree of accessibility, which even ensures that the school parties are silently enraptured.
On John Gunter's largely bare set, which is deliberately underlit, the cast wear modern dress that varies from ripped punk through preppy and tennis to evening dress. Hamlet himself has the gawky, geeky look of an out-of-sorts teenager, especially on his first appearance in a black woolly hat.
There is a suspicion that Hamlet's pale, apparently undernourished appearance might indicate that he has been experimenting with drugs more than is good for him. His "madness" has that kind of quality too.
The lighting by Paul Pyant will surely win him awards for his ability to create the right atmosphere, making much use of shadow and silhouette, and to single out characters at critical moments.
Trevor Nunn has insisted that the actors' gestures are right up to date and this assists Samantha Whittaker as the childish, gym-slipped young Ophelia to charm and impress. She is currently still at university and is one of a number of cast members making their professional stage debuts. Similarly, Jotham Annan, who has just left drama school and plays an undergraduate Horatio will be heard from again, with his excellent diction and stage presence.
There have been many excellent Hamlets in recent years. While some may compare in virtuosity to Ben Whishaw, none has been as young, let alone with only a single previous professional appearance (in His Dark Materials) behind them. His qualities are manifold.
Whishaw may well have to put up with frequent comparisons with John Gielgud, another man who nearly 75 years ago, debuted in the same part at the Old Vic in his mid-20s. Whishaw has a beautiful voice and his verse-speaking, in common with the whole cast, was excellent. In particular, by slowing every soliloquy, he ensured that the meaning could be savoured. An almost suicidal "to be or not to be" was especially effective, accompanied by both knife and pills.
The younger members of the cast didn't have it all their own way. The constantly canoodling couple, Tom Mannion's self-loving, blond-wigged Claudius and Imogen Stubbs as a very seductive young Gertrude, were excellent. The latter was particularly moving when telling Laertes (Rory Kinnear) of his sister's death. In addition, Nicholas Jones made as funny a Polonius as one could hope to see.
The eye, though, was far more likely to be held by a shining new star who does seem to have it all. Unlike another great Hamlet in a completely different mould, Simon Russell Beale, he can even wield a sword convincingly.
Go and see Trevor Nunn's Hamlet. In forty year's time you will be able to tell the grandchildren that you saw Ben Whishaw's first great role.
Reviewer: Philip Fisher