Happy Days
Samuel Beckett
RNT Lyttelton
(2007)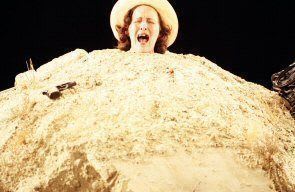 It might be argued that Deborah Warner and Fiona Shaw are the best director/writer combination in the business at the moment. Their work together is always ambitious and rarely less than memorable; and once again with Beckett's Happy Days, first seen in New York 45 years ago, the evening lives up to high expectations.
On entering the auditorium, the visitor is assailed by the brightest of headlights so that it takes a little time for the eyes to adjust to Tom Pye's set, which covers hundreds of square feet over what might well be the whole of the stage and backstage area.
It consists of a post-apocalyptic nuclear desert, in which the tiny figure of Winnie is seen, buried in earth up to the waist. For an hour and three-quarters, including a 20 minute interval, she presents us with her views about life, seen from the perspective of one who has lived through what may well be the majority of the stages of the end of human existence. Yes, we are in Beckett Country.
At the start, Winnie is sunny, hardly troubled by the author's prescient vision of global-warming, which seems to affect her husband Willie far more. In what is basically a monologue for his character's wife, Tim Potter plays a man who has regressed to a situation where most of his pleasure is derived from toying with the appendage after which he has been named.
Much of Winnie's wittering is about the pleasure of a past life and the difficulty in expanding her minimal pleasures to fill the long, long days between the bell that awakes her and another which allows her to go to sleep. Her only aids are a big black bag of goodies, including for no good reason a pistol, and her thoughts. In this way, she (and Beckett) explores so much of the meaning of human existence.
The jauntiness lasts through the longer first act, in which there is little physical drama with the exception of a mighty fireball, which will wake any dozing punters but rather sadly takes away the protagonist's colourful, sun-defying umbrella.
When the audience members return after enjoying their interval drinks, they discover that poor Winnie has sunk to the neck. To compensate, Miss Shaw moves up into top gear as her anguished character's gets close to panic. This is nothing to do with her own fate but her concern after the troglodytic Willie disappears from view and she fears the worst.
This need for companionship says much about such a cheerful, independent figure, as does Winnie's pleasure when her childlike husband eventually comes crawling over the horizon. She is not the last person left on earth after all.
Like so many Beckett plays, on the surface Happy Days seems to be about nothing at all, but Winnie's cheerful ability to overcome the kind of suffering that would destroy any normal person and her musings on the meaning of life attack viewers on a subliminal level to great effect.
It helps a immensely to have one of the best actors around dominating the massive stage and with her witty delivery and very expressive face, Miss Shaw has little need of her buried body to get meaning across.
Any artistic director who chooses to put on what is effectively a short, Beckett monologue in a large scale theatre is brave. With the selling cards of Fiona Shaw and Deborah Warner, both on top form, Nicholas Hytner deserves to win plaudits and fill the Lyttelton house throughout the revival's relatively short run.
Reviewer: Philip Fisher