Juno and the Paycock
Sean O'Casey
Abbey Theatre, Dublin, and National Theatre co-production
RNT Lyttelton Theatre
(2011)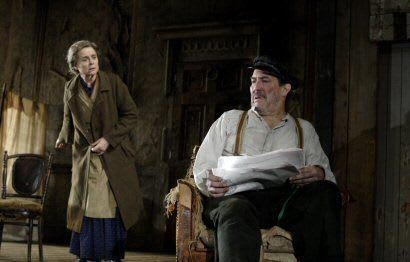 Any collaboration between Dublin's Abbey Theatre and London's National raises expectations to a dizzy peak but Howard Davies' new version of Juno and the Paycock still doesn't disappoint.
This is a great play by any standards, encapsulating the woes of strife-torn Ireland in the early 1920s in memorable fashion. The issues are viewed through the eyes of the members of an atypical working class family and their neighbours occupying an oversized apartment in a crumbling Dublin tenement.
Sinéad Cusack plays matriarch Juno Boyle, the kind of proud, determined housewife that has pretty much disappeared from modern society. She holds the family together through thick and thin, gaining in strength as adversity bites.
The banes of her life are Ciáran Hands as husband Jackie, better known as The Captain or The Paycock, and his partner in crime Joxer Daly, played with gusto by Risteárd Cooper.
This mendacious pair of lazily lovable rogues enjoys nothing better than a drink, unless it is the chance to have a laugh or a song.
A generation down, Clare Dunne's Mary Boyle is in her prime, enjoying the attentions of loyal, decent Jerry until the better bred, more polished Charles Bentham comes along.
He brings with him the will of a long lost and never loved cousin of Jack's that instantly turns the penniless drifter into a wealthy man about town.
Thus far, Juno and the Paycock is a delightful social comedy poking gentle fun at the Irish working classes and greatly amusing the audience.
The only sour note comes in the form of son Johnny (Ronan Raftery). This unfortunate has been crippled not once but twice in his efforts to support the Republican struggle, losing an arm and left with a permanent limp.
The first hint of a turn in family fortunes is prefaced by the funeral of a neighbour's rebellious son, painfully delayed on opening night by that actor's nightmare, a door with a will of its own.
The arc of the play from this moment on moves away from comedy towards tragedy applied on an almost Grecian scale.
Like Job's, the family's good fortune disintegrates, allowing a great crew of actors to show their skills in different styles.
In particular, Sinead Cusack really hits the mark as she delivers a tearful eulogy when fortunes hit rock bottom. While she is good as the long-suffering wife, during the earlier comic scenes it is Hands and particularly Cooper who delight, the latter skipping around like an impatient colt drawing laughs every time that he appears.
What had initially seemed like a light comedy quickly turns into a cleverly written meditation on the Troubles, treating poverty, religion and the republican struggle with equal regard.
Not only does Sean O'Casey write in beautiful language, giving Joxer a stream of pithy and insightful quotes the pick of which is "it's better to be a coward than a corpse", he also knows how to string an audience along to ensure that his messages are delivered effectively and powerfully.
This lovely collaboration between the English and the Irish should enjoy great success in London following its transfer from Dublin and fully deserves to.
"Juno and the Paycock" plays until 26 February 2012
Vera Liber reviewed this production at the Abbey Theatre, Dublin
Reviewer: Philip Fisher