Lolita
Vladimir Nabokov, edited by Richard Nelson
RNT Lyttelton
(2009)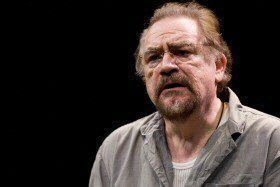 There is perhaps some irony that this 1¾ hour solo performance is Lolita minus the eponymous nymphet, who is the main draw in film versions of Vladimir Nabokov's novel, generally recognised as one of the greatest works of the last century.
Indeed, one might argue that it could better have been entitled Humbert Humbert, after the character portrayed and anatomised by Brian Cox.
The Scottish actor is following in some august footsteps, taking on a role created on the silver screen by James Mason and more recently played by Jeremy Irons.
Under the direction of the novel-play's editor, playwright Richard Nelson, Cox speaks to a packed Lyttelton Theatre from a small raised area representing the prison cell where the notorious paedophile practices the speech that he will deliver to the court that is to try him.
In grey prisoner's pyjamas, glasses and a goatee, the actor reads Nabokov's beautifully poetic words, not directly from a script but rather drawing on a mini library piled around on and below his metal cot.
The story of "Humbert Humbert [who] tried to be good" must be familiar to all. HH is a middle aged man totally besotted with the 12-year-old Dolores, or, as he re-names her, Lolita.
Arguably, his misfortune is that she is knowing enough to seduce and encourage his desires, thus setting a potentially harmless "pervert" on a much more dangerous road than had she run a mile at his first approach. Then again, how much credence can one put on the words of a man in a prison cell preparing to defend himself in front of a jury?
Brian Cox speaks impeccably and knows how to get a laugh, as well as sympathy for a potentially unsympathetic character but his movements are minimal and rarely stretch beyond the face.
However, a read monologue of this length can be indigestible and while the language and pacing work well played straight through, an interval might have offered a welcome chance to reflect and recharge the batteries.
Reviewer: Philip Fisher