London Assurance
Dion Boucicault
RNT Olivier Theatre
(2010)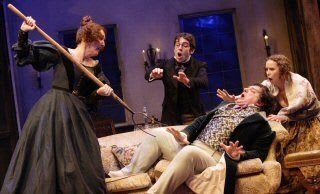 London Assurance is to all intents and purposes a Restoration Comedy. The only slight demurral comes because it was written the best part of a couple of hundred years too late for the classification.
Dion Boucicault is best known for his Irish melodramas such as The Colleen Bawn but, aged 21, he wrote this comedy poking fun at the pretensions that abound in the upper reaches of London Society.
This is a familiar stage world where impecunious toffs spent their lives frittering away money that they did not have and pursuing romantic intrigues with inappropriate women.
Nicholas Hytner should be thanked for reviving what turns out to be a treat in his assured production characterised by impeccable comic timing from start to finish.
It helps to have the kind of cast that only he can put together, led by the intriguing pairing of Simon Russell Beale and Fiona Shaw.
On a set designed by Mark Thompson that slowly unpeels its layers like an architectural onion, we follow the fortunes of Russell Beale. He portrays fashionable Sir Harcourt Courtly, a rakish 57 year old betrothed to an 18 year old ingénue whom he has never met.
In such classy company, it is greatly to the credit of the versatile Michelle Terry playing the innately wise young lady, that she rises up to the challenge and matches the better-known names laugh for laugh. In doing so, she is helped by a malleable face and wicked sense of humour, while ensuring that dignified Grace always lives up to her name.
The old man is deceived by everyone that he meets, largely due to an overarching vanity of the kind that title breeds. Looking like a gaudily-dressed Tweedledum (or is that Tweedledee?) he heads for the country home of Grace's uncle and guardian, Mark Addy's Squire Harkaway, to claim the orphaned heiress.
There, all kind of problems beset him. The most troubling is Paul Ready as his innocent son Charles, who turns out to be a rowdy chip off the old block and in no time is ducking the debt collector and courting his soon-to-be mother.
At the same time, Sir Courtly falls for the horsy Lady Gay Spanker (there can be few more evocative names anywhere in literature). Miss Shaw as a character straight out of Surtees, much to her (and our) amusement, though somewhat to the distress of her devoted octogenarian husband Dolly, played in a nice cameo by Richard Briers.
While the denouement is inevitable, the means of getting there can be novel, and with this cast, superbly directed, the audience is rewarded with 2¾ hours of almost solid laughter.
When Simon Russell Beale doesn't have them rolling in the aisles with pleasure at his humourless character, it is Miss Shaw or her younger cohort, Miss Terry.
The support is strong too, with Nick Sampson making the most of his opportunities as a Jeeves-like butler Cool, Tony Jayawardena playing a grasping comic lawyer named Meddle and Matt Cross in the role of Richard Dazzle, the type of sponger who could live for years in country houses without anyone working out who he is (or is not).
The comedy masks a slightly more serious social commentary as Boucicault takes numerous digs at the ludicrous pomposity of the upper classes at a time when foppish types like these clearly were still a significant element of Society.
There might be a question about whether this writer is out of the very top drawer, but he is a worthy member of that long line of Irish playwrights that is still going as strong as ever today. With this kind of cast, London Assurance would undoubtedly prove popular but in the end, the comedy's ability to generate sustained laughter for so long will be the abiding memory of most visitors.
Reviewer: Philip Fisher