Major Barbara
George Bernard Shaw
Lyttelton Theatre
(2008)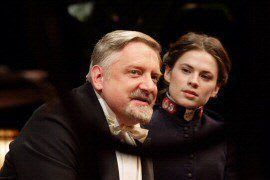 There is something rather depressing about seeing a play written just over 100 years ago and identifying devastating problems that are no closer to resolution today than they were at that time.
However, such is Shaw's eloquence and so impressive is Nicholas Hytner's production with three great central performances, that this will be a must-see show through the spring.
The team of Hytner and Simon Russell Beale is now becoming very familiar to audiences at the National. To have one of the best directors and the best actor of the day working together on a regular basis is an undeserved pleasure that we should take advantage of. Even better, the cost of doing so on this occasion is a mere £10 for many of the seats thanks to the sponsorship of Travelex.
On this occasion, Russell Beale is Andrew Undershaft, an incredibly successful armaments manufacturer who, while seemingly the cruellest man in the world, is in fact just a realist who knows a thing or two about life.
This 2¾ hour drama contrasts the renegade foundling with the remainder of his eclectic family. The opening scene, played on a square, wheeled platform representing the lavish, almost jungle-like, drawing-room of the family home, introduces us to them.
Claire Higgins plays the bossy matriarch, Lady Britomart, who is happy to spend her husband's money, while wanting nothing whatever to do with someone quite so common. Her children and prospective in-laws are a hopeless lot. The apple of his mother's eye, son Stephen (played by John Heffernan) should by rights be heir to the family business. However, this colourless nobody would rather stand for Parliament and Shaw leaves us in no doubt that the two will deserve each other.
He seems something of a fool but compared to his sister Sarah's intended Cholly, a rich chump delightfully portrayed by Tom Andrews, he could in a later generation have been Brain of Britain.
That leaves the play's focal points, Barbara, a Major in the Salvation Army and her weedy beau, Adolphus. The latter is a Greek professor hailing from Australia who has chucked up his profession to pursue the young lady.
With Hayley Atwell in this part, it is easy to understand why. With full makeup, she may look rather too pretty to be entirely convincing as a Salvation Army worker but the beauty has both the intellect and mental strength to compete with hard-nosed father. This actress is surely destined for fame as a film star, having the beauty of Keira Knightley or the young Julie Christie and great talent as an actress.
The second act, having seen Tom Pye's living room smoothly roll offstage, is set in Barbara's West Ham hostel, with an abundance of lowlives on show. She is capable of dealing with pretty much anything, including a big bruiser called Bill Walker (Ian Burfield) who is happy to hit any woman but is stared down by this tough cookie and her prayers.
It is only when her father visits that Barbara has her faith challenged, by his chequebook, which is far more powerful than any fists.
Up to the interval, Shaw had toyed with us, offering light comedy amongst the upper and lower classes. The power of the piece becomes apparent as his major characters get polemical with Andrew Undershaft delivering a marvellous speech that could have been written by a political playwright today, perhaps Sir David Hare.
In it, he explains that while politicians might appear to run the country and the world, it is in fact globalising businessman who have all the power; none more so than the purveyors of armaments like himself, a self-confessed and even proud "manufacturer of mutilation and murder".
Undershaft still has the problem of finding a successor to his trade. His firstborn is clearly completely untenable and in any event, there is a tradition that Andrew Undershafts must be foundlings of high intelligence. With a little bit of contrivance, Shaw finds the ideal man for the job in an unexpected quarter.
At the start, Paul Ready's bearded Adolphus had seemed a weedy dolt devoted to Barbara with little mental strength or energy. However, once he steps out from behind her apron strings and hangs up his bass drum forever, the professor acquires previously hidden powers almost like Superman emerging from a telephone box. This young man proves himself capable not only of debating with his future father-in-law but also winning the argument.
The business will go on and, indeed, over the last hundred years armaments manufacturers such as the Andrew Undershafts of this world have continued to pull strings and in effect rule the planet.
Nicholas Hytner has done a wonderful job, deliberately starting off at a leisurely pace with lots of lengthy pauses before taking us into magnificent scenes of verbal dexterity and visual delight. The opening of the final act is dramatic in the extreme, with Mars, Bringer of War from Holst's Planets adapted to an accompaniment of factory clanging accompanying a stunning invasion of the stage from above by enough cannons to blow up the whole of West Ham.
There, the play reaches a satisfactory ending with all of the major players victorious but the planet threatened. Maybe one day somebody will listen to the powerful message of Major Barbara and do something about wars, hot and cold, but until they do so, the play continues to deserve wonderful, star-studded revivals like this.
Reviewer: Philip Fisher