The Man of Mode
George Etherege
RNT Olivier
(2007)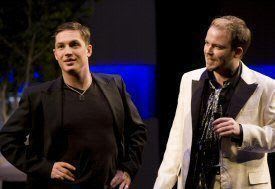 Nicholas Hytner is becoming the outstanding exponent of updated classics. Yet again, he takes a play from centuries ago and gives it a modern makeover that illuminates both the play and our own times.
In some ways, this large-scale revival might be compared with Don Juan in Soho just over the river at the Donmar. Each features a rakish womaniser who digs himself into beds and out of trouble by his charm, wit and in this case not inconsiderable beauty.
This Restoration Comedy first saw the light of day in 1676, when style was all that mattered in society and intrigues were de rigueur. That may sound very different from the early years of the new millennium but Hytner, aided by designer Vicki Mortimer, draws striking parallels.
The look is absolutely up to date with stylish sets dissolving into each other from bedroom to bar, boutique, ultra modern gallery and hotel, while sharply dressed performers dance and mime to cover the scene changes. The best dressed of all is Sir Fopling Flutter, our Man of Mode, of whom more later.
The early scenes introduce us to Dorimant, played by the heavily tattooed and muscled Tom Hardy. He is triple-timing his lady friends, with the aid of a crew of servants and hangers-on.
One of his conquests, boutique owner Mrs Loveit, played by Nancy Carroll, is never better than when showing off the hellish fury of a woman scorned. Her buxom friend Belinda (Hayley Atwell) fares little better and it is only the level-headed Harriet who can contain her passion with judicious wit.
Etherege believes in complications when it comes to plotting and a second series of loving complications comes with Amit Shah's Harry, the man to whom Harriet is promised, at least by their respective parents. This allows the writer, aided by Amber Agar who impresses as the lady, to delight and amuse us with an impromptu lesson in the body language of love.
Harry has no time for her as he is already in love with pretty Amelia, a shy girl played by Abby Ford, who finds herself the object of unwanted attentions from Harry's father of all people.
This is great fun but it is the modish titular Man who steals the show. Rory Kinnear is sensational as Sir Fopling, whose life is entirely geared to his affectations. He speaks affected French, has a crew of acrobatic French dancers constantly in tow and dresses unforgettably.
This Beau's clothes sparkle, dazzle and shine, and so does Kinnear. He gets everything hilariously right from the diction, through body language to attitude in every sense of that word.
Nicholas Hytner once again manages to combine the Restoration with the modern in every aspect of this constantly witty three hours. This is exemplified by the performance of Tom Hardy playing Dorimant. Before we even start, he is the centre of a kind of raunchy pop video prologue in which the rake wears a curly, flowing wig from Etherege's age but exposes those modern tattoos while scantily clad beauties vie for his body.
Hardy's movement is deliberately overstated with Jacobean flourishes that turn into crude contemporary gestures in an instant. He speaks like a fop but can also drawl if that is what is required to charm a lover or even her mother.
If you are tempted by Restoration drama but a wee bit scared of the language, give this sexy comedy of manners a try. It breaks down the barriers that the past can put up and leaves its audience as satisfied as its faithless hero.
Reviewer: Philip Fisher