Men Should Weep
Ena Lamont Stewart
RNT Lyttelton Theatre
(2010)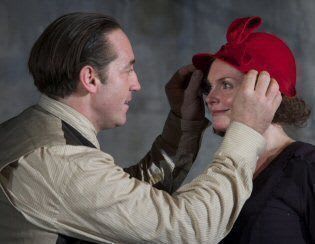 This revival is a Kitchen Sink Drama written at least a decade before John Osborne invented the genre.
It is likely to be remembered for a remarkably assured National Theatre directorial debut from the Bush's Josie Rourke and an outstanding central performance from Sharon Small as Maggie Morrison, a memorably tough but infinitely forgiving Glaswegian tenement matriarch.
Men Should Weep, first produced in 1945, is a bit of a Depression era pot-boiler, though with its heart very much in the right place. Its melodramatic qualities might suggest that had Ena Lamont Stewart (who lived to the ripe old age of 96) still been writing half a century later, she would have been popular as a writer for prime time soaps.
The scene is set by Bunnie Christie's ultra-realistic, two-storey re-creation of a grimy tenement building that should have been condemned long before but remains the home of numerous families including the Morrisons.
Maggie, presumably modelled on the author's own experiences, is a perennial scapegoat who spends her life getting the family out of scrapes, following the simple philosophy of living "one day at a time".
For most of the play, money is not so much scarce as non-existent since the menfolk, including her husband John, Robert Cavanah can get no work. This leaves Maggie tirelessly skivvying to make ends meet, then doing the same for her lazy family.
Things are so bad that even a tin of baked beans to be shared amongst the couple and their five children is regarded as a luxury. So hard is life that, as well as evoking a series of plays from the period such as Love on the Dole and American equivalents from the likes of Odets and Steinbeck, Monty Python springs to mind.
The Depression lives up to its name with almost everyone on show suffering terribly. The woman upstairs gets beaten by her drunken husband so to an extent Maggie is lucky, as she and economically emasculated John continue to love each other as their silver-less wedding passes uncelebrated.
The kids have their own problems. Pierce Reid's weak Alec is married to Isa, a ruthless bitch gleefully played by Morven Christie.
The wholly convincing Sarah MacRae is Jenny who wants out and escapes, breaking her poor old daddy's heart. Later, in one of the play's many minor miracles, the peroxide blonde returns flush with money and the kind of clothes that reek of immorality.
The next three do well enough but the youngest boy has TB from which he is unlikely to recover. In addition to the nosy neighbours, Maggie the maternal martyr even has to put up with John's moaning mother and a sister-in-law who is meanness personified.
Men Should Weep peaks when it portrays Maggie as a tower of strength, willingly shouldering her duties for love but also as the poverty becomes too much, even for her.
After a gloomy first 90 minutes of feminist realism, it seems as if the writer worries about her audience's ability to take any more doses of unremitting gloom.
Suddenly we arrive at Christmas and move into an aspirational fairy tale in which John is employed earning enough for a wireless, fancy red hat for Maggie and gifts for all.
When we learn that young Ernie can never come home to this rat-infested slum and survive, slutty big sis reappears with untold riches and the promise of a luxurious new home.
Despite the coincidences, contrivances and some one-dimensional stereotypical characters, this picture of the poor suffering in the Depression introduces a great central character. It also provides a salutary lesson of what could be ahead as the Government cuts and cuts again in its efforts to balance the Budget.
We can only pray that today's equivalents to the Morrisons and their ilk have the same good fortune as this ultimately lucky family.
Reviewer: Philip Fisher