Mrs Affleck
Samuel Adamson, from Henrik Ibsen's Little Eyolf
RNT Cottesloe
(2009)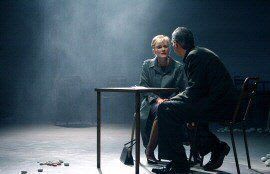 Samuel Adamson has chosen to update Ibsen's rarely seen, joyless tale of unhappy families, Little Eyolf, to Kent in the mid-1950s. This was a period of hope as rationing books were replaced by relative plenty and a new, young Queen ascended the throne.
While the tone often catches the original, the people and their lives never quite leave the darkness of Scandinavia half a century before.
Marianne Elliott's production is built around a neurotic tour de force from Claire Skinner in the title role. She plays a bored housewife encumbered by a dull husband, Alfred, and cruelly crippled young son. Little Ollie is sweet and lovable but, perhaps though guilt at the neglect that caused his injury, provokes nothing but revulsion in his mother, a woman who seems to believe that he is stealing away her youth.
So claustrophobically manic has she become while Angus Wright as hubby is away in Scotland not writing a book about nuclear war that she begins to wish the unwishable.
For any mother to pray (however atheistically) that her son should die is terrible to witness and inevitably drives a wedge into an already rocky marital relationship.
The failing love between the Afflecks is paralleled by an on-off romance involving Phil Cheadle playing the puerile Lancastrian Jonathan and Alfred's devoted but rather fragile half-sister Audrey (Naomi Frederick). Somehow, their chances of love and marriage seem at rock bottom from the start. However, that is not too far from the position of the Afflecks too, even before a further tragedy befalls poor Ollie.
His neglectful death blights the parents, throws brother and sister together and finally leaves all doomed to eternal misery.
Claire Skinner makes the most of an opportunity to portray a woman in the throes of depression and Angus Wright is a master of the irremediably grim but the change of time and place adds little. This is particularly the case as Bunny Christie's atmospheric, if impractical design impressively lit by Neil Austin, constantly brings to mind a Norwegian winter.
The staging uses a long, narrow traverse, which is odd, as the first half takes place almost exclusively in a large kitchen beyond the end of the audience.
Reviewer: Philip Fisher