Never So Good
Howard Brenton
RNT Lyttelton
(2008)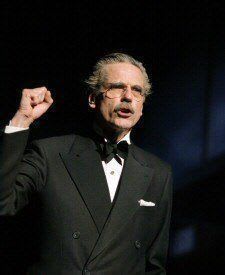 Never So Good relays the life of Prime Minister Harold Macmillan by focusing on four critical periods in his life. There is no doubt that the highlight, both dramatically and in terms of what it says to us today, is the third act.
This is set in 1956 as Anthony Eden's government is collapsing over the Suez Crisis, sunk both by Eisenhower and its own imperialistic failings.
Howard Brenton cleverly draws parallels with a remarkably similar diplomatic dispute half a century later when, rather than Nasser in Egypt, it was Saddam Hussein in Iraq that the British sought to remove. The difference the second time round was that Tony Blair's government had the wholehearted support of the American president.
There are other comparisons that can be made with contemporary politics, since Macmillan spent many years in the background efficiently supporting Churchill and, with less enthusiasm, Eden, before being thrust into the limelight and arguably a job for which he was not the right man. Time will tell as to whether Blair's successor suffers a similar fate.
The early scenes show an impeccable upbringing at Eton, Oxford and in the Grenadier Guards, chivvied along, like Churchill, by a bossy American mother, played by Anna Carteret. She it is that covers the embarrassment of an early departure from Eton under a homosexual cloud but draws the line when her son toys with Ronald Knox and Roman Catholicism.
Showing remarkable prescience, Nellie Macmillan reminds her youthful son that this will prevent him from taking up a Cabinet post in the future, something that he had not even considered.
The scenes of life in the trenches during the First World War are both graphic and terrifying. Macmillan, a man designed for peace rather than war, showed impressive bravery, eventually escaping with his life but five wounds in addition to internal scars that possibly never healed.
In the second act, Pip Carter swaps places with Jeremy Irons in the leading role. Macmillan is chosen to narrate and observe his own life. The older version stands in the background watching the first act to bring back memories of Tom Stoppard's The Invention of Love before his younger self is allowed to make increasingly pithy comments about the frequently pusillanimous politician throughout the rest of the play.
The second act centres on the battle between Ian MacNeice as Churchill and Terrence Hardiman playing Neville Chamberlain. Macmillan is torn between supporting his Prime Minister and following an inspirational man who is almost certainly destined to take over.
This is also a first opportunity to meet Anna Chancellor doing a good job in the part of the tall, beautiful Dorothy Macmillan, a wife in public, if not in bed, where she prefers her husband's unsavoury political rival, Robert Glenister's Bob Boothby.
The unforgettable interval curtain scene, recreating a Second World War air crash, is literally explosive and suggests that designer Vicki Mortimer might have hidden talents as a pyromaniac.
After the interval, the drama hots up as Eden (Anthony Calf) relies increasingly on drink as he realises that his whole premiership rests on following the Israelis into Egypt in a badly orchestrated cover job. Somehow, despite being his right-hand man and next-door neighbour, Macmillan, by then the Chancellor, escapes with his reputation intact as the hard-nosed Eisenhower, played by Clive Frances ensures that the PM bites the dust.
By 1957, fulfilling his mother's dream, the publisher-politician had moved into Number 10 where he enjoyed a honeymoon that included a landslide victory and the fond soubriquet of Supermac.
Having spent a good amount of time showing Macmillan ascending the greasy pole, Never So Good does not seem that interested in his prime ministerial life once he gets to the top, quickly skating to the Profumo scandal that left him out of office but probably all the happier for that.
Rather than high office, the conclusion that one reaches is that Harold Macmillan was far better suited to a life of study or employment in the world of books.
Howard Davies ensures that his actors do a series of good impressions of politicians who will now, so many years later, be fading from the public memory.
The weakness with this play is that portraying a nearly man who didn't ever set the world on fire might be of great historical interest, particularly to those who were around at the time, and allows a sympathetic Jeremy Irons to embody the central character, but it does not have sufficient narrative drive to sustain the story through 2¾ hours.
Reviewer: Philip Fisher