The Observer
Matt Charman
RNT Cottesloe
(2009)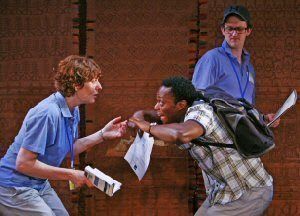 Matt Charman shows ambition in this political satire centring on an unnamed African country on the brink of electing its first democratic government.
The process is primarily seen through the eyes of Anna Chancellor's careworn Fiona Russell. This lonely, determined lady is the moving force behind the International Election Observation Mission shipped in to decide whether the elections are "free and fair".
A local perspective is offered by Fiona's translator Daniel, played with just the right degree of deference and independence by Chuk Iwuji.
For around 2½ hours, Richard Eyre directs a large cast in a series of short scenes that utilise a kind of fictionalised TV journalism to explore all views of the election. Together they build a good picture of the problems surrounding democratic elections in a dictatorship that owes at least a little to Zimbabwe.
As well as the two main characters, The Observer shows us the issues from numerous other perspectives. Fiona's colleagues represent the external forces but so do a BBC film crew featuring a convincing Lloyd Hutchinson as a reporter who could so easily appear on our TV when we get home from the theatre. More sinister is the seedy Foreign Office diplomat Saunders, James Fleet playing a man whose main employer is almost certainly MI6.
The locals are seen in every political shade from a committed and heavily beaten up-country youngster to a military chief with an Oxbridge accent and the ability to sway a President who refuses to step down.
The crux of the play is whether Fiona will allow her personal desire for a change of government to override the need for objectivity required by her role. Eventually, Matt Charman favours convenient plot development over showing a more depressing reality.
Anna Chancellor gives her all as Fiona and gets good support from the other main players including several character actors playing multiple parts, of whom the best is Cyril Nri, particularly in the guise of a comically believable barman.
The Observer may follow well-trodden tracks and has a tendency to drift into melodrama but it asks a series of important questions about personal morality and the right to intervene if the cause is good enough.
Reviewer: Philip Fisher