Pains of Youth
Ferdinand Bruckner, in a new version by Martin Crimp
RNT Cottesloe
(2009)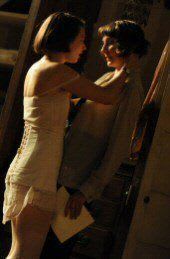 The Germans (and Austrian immigrants like Ferdinand Bruckner) certainly know how to do existential angst with a strong helping of decadence; and with the help of Katie Mitchell and Martin Crimp, this edgy drama shows that it can still speak volumes to audiences today.
While Bruckner might most obviously be compared with Frank Wedekind in plays such as Spring Awakening or Lulu, other parallels could be found from German works ancient and modern.
Pains of Youth was written in 1922-3 and explores love at its most trying. Set in a Viennese boarding house occupied by trainee doctors, it ought to be a happy play as bright young people pursue their ambitions while falling in and out of love.
However, Bruckner was not a precursor of the writers of those indistinguishable American soaps in which impossibly young doctors and nurses bed hop in the moments when they are not heroically saving lives.
His worldview seems irredeemably pessimistic in this iconoclastic production. Anything that looks like love is doomed and the average relationship lasts no more than a few days.
The opening seems filled with hope. Laura Elphinstone's hard-working Marie has just qualified as a doctor, overcoming her working class origins and is in love with Leo Bill's admittedly weedy Petrell.
Her pretty best friend Dizzy (Lydia Wilson) is on a similar career path but comes from different stock. She is a Countess no less, whose life is devoted to over-indulgence. There is a suspicion that she may have signed some secret Faustian pact as exams can be passed without study and lovers of both genders are attracted like bees to a honey pot.
The women are both attracted to Geoffrey Streatfeild's possibly literally diabolical drunkard, Freder. This unsuccessful writer delights in breaking relationships, including his own and heartlessly seduces Lucy the maid (Sian Clifford) merely to toy with the girl then put her "on the game".
Martin Crimp's modern version helps to give the drama a contemporary resonance, while Katie Mitchell uses her own special brand of intrusive directing in a suitably limited fashion to heighten the tension as the play builds to an inevitable tragic climax.
On this occasion, the scene changes are carried out under eerie lighting by pairs of super-efficient men and women, sharply-dressed in today's austere fashion, while the actors remain frozen. This is a technique that might be unique to Miss Mitchell and makes a chilling evening more so.
The young ensemble act impeccably, with Laura Elphinstone's switches between brittle happiness and incipient despair particularly memorable, as is Geoffrey Streatfeild's drunken maleficence and recent RADA graduate Lydia Wilson's cold amorality.
One could easily come away from Pains of Youth wondering quite what it was driving at but as a portrait of the future ruling classes struggling to understand themselves and their lives, it deserves this gripping revival.
Reviewer: Philip Fisher