Present Laughter
Noël Coward
RNT Lyttelton
(2007)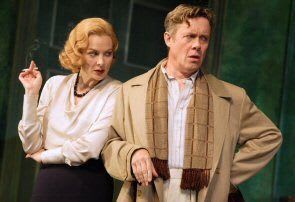 Present Laughter may not be Noël Coward's greatest play but this light drawing-room comedy is certainly a tremendous star vehicle. Unsurprisingly, the star for whom it was a vehicle again and again in England, on Broadway and remarkably even played in French in Paris, was Noël Coward.
The at the very least semi-autobiographical part of Gary Essendine is a dream for any actor and this production allows Alex Jennings to be seen at his comic best under Howard Davies' direction, following in the footsteps of such luminaries as Albert Finney, Peter O'Toole, two knights in Simon Callow and Ian McKellen and even Rik Mayall.
This male equivalent of the theatrical grande dame, think of Judith Bliss from Hay Fever in trousers, lounges around his large studio, designed by Tim Hatley to look like a cross between an untidy living room and a junk/antique shop, enjoying "the most irritating morning of my life".
Essendine is vanity incarnate and a master of the one-line putdown. During a few days in 1939, he is fuelled in his narcissism by the hero worship of an unlikely series of devotees as he plans a six play tour to Africa; and incidentally World War II commences.
The most impressive role behind the protagonist is that of the "acid" Monica, played by the exquisite Sarah Woodward whose impeccable timing and disapproving vocal tones could easily win her a Best Supporting Actor Award.
This curt but ultimately affectionate spinster is the kind of personal assistant who is expected to and does perform duties that even a wife would refuse or that would give her grounds for divorce. As compensation Monica uses dry wit to debunk the boss at every opportunity.
The opening scenes show a star struck ingénue, played by Amy Hall, the morning after falling head over heels in love and into bed with our hero. Jennings as Essendine does a delicious job of proclaiming undying love and with Monica's assistance simultaneously easing the posh wannabe out of his life.
Things only get worse, as she is replaced first by a male equivalent, a badly dressed, creepy young playwright called Roland Maule with a fine comic handshake and a remarkable ability to irritate. On this showing, professional stage debutant Pip Carter should have a long and successful career as a comic character actor.
Ramping up the comedy to almost farcical levels, Coward then introduces Lisa Dillon playing Joanna Lyppiatt, the vampish wife of one of Essendine's best friends and mistress of another (a double act played by Simon Wilson and Tim McMullan respectively).
This redheaded femme fatale mistakenly believes that she has the measure of everybody, including two stereotypical servants that show the playwright at his condescending worst, and the wry Sara Stewart as a glamorous ex-wife straight out of Private Lives.
Davies' cast does him proud throughout the three-hour production but the script feels overly long despite a series of comic high points and some superb performances. In particular, Alex Jennings, who is on stage pretty much throughout, gives his character much humour and a fine line in embarrassed discomfort, even if the part has been written with too little pathos underlying it.
Noël Coward and the man who played Prince Charles in The Queen should between them ensure that this comedy farce sells well but its greatest service might persuade the National that it is time to revive Private Lives with Jennings in the title role.
Reviewer: Philip Fisher