Season's Greetings
Alan Ayckbourn
RNT Lyttelton Theatre
(2010)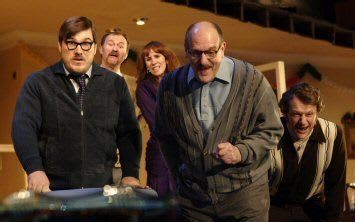 Season's Greetings is like a car crash waiting to happen, or to be more accurate, a motorway pile-up. It is therefore pure Sir Alan Ayckbourn - 1980 vintage.
The National's adult Christmas offering, joining Beauty and the Beast in the festive repertoire, boasts a host of stage and screen favourites, which, added to the playwright's renowned drawing power, should guarantee good sales, even if it were not such fun.
In Marianne Elliott's lavish revival nine characters, replete with flaws galore, descend on the suburban house of small businessman Neville and his pretty but frustrated wife, Belinda.
For the next 2¾ hours, they offer a terrifying reminder of why the prospect of Christmas with the relatives fills so many hardened adults with a sense of dread. In fact, the more sensitive might be advised to wait until after the festive weekend before seeing the play.
Sir Alan has two talents that have stood him in such good stead through 70 or so plays. First, at his best, probably the most popular playwright still working is an extremely funny writer and everyone will find many opportunities to laugh through the evening. Secondly, he creates dreadful characters who could hardly be drawn from life, except that so many of them bear a close resemblance to people that we know, or if only we would admit it, ourselves.
The characterisation on this occasion may be a little uneven but there are some prime examples of lower middle class archetypes. Catherine Tate, who is better known as a TV comedienne, rises superbly to the challenge of a leading role at the National playing Belinda.
The hostess is an unhappy housewife who tries to balance smoothing over the inevitable culinary and social disasters with lusting after tall, handsome Clive, a novelist played with an appropriately hapless air by Oliver Chris .
The other unforgettable invention is Uncle Harvey, given glorious life by David Troughton (father of the RSC's current Romeo, Sam). He is a bloodthirsty bigot, with a nice line in schadenfreude, addicted to TV and itching to show off a whole arsenal of weapons that inevitably leads to fireworks before the close.
Nearly as good is poor old Bernard , a hopeless case played by Mark Gatiss, who is as bad a puppeteer as he is a doctor but must be a type known to us all (quite possibly by the title of Uncle).
Less well-drawn are pregnant baby-machine Pattie and slobbish Eddie played by Katherine Parkinson and Marc Wootton, who are dullards seemingly invented to serve as figures of fun, as is the doctor's wife Jenna Russell's Phyllis, a comic drunk.
Elsewhere, we see Nicola Walker playing Rachel, the frumpish literary groupie who has brought Clive to the party but then doesn't know what to do with him, achingly well and Neil Stuke as Neville, the DIY-obsessed host who prefers to wield a screwdriver or disappear for a beer rather than enjoying the company of his attractive wife.
Season's Greetings is far less dated than the amazing cardigans created by Rae Smith, who has also constructed a formidable three-storey set and lovely puppet theatre. Even so, it now seems a period piece, but one peopled by timeless characters in situations that are often as funny and close to home today as they would have been thirty years ago.
Reviewer: Philip Fisher