Spring Storm
Tennessee Williams
Royal & Derngate, Northampton, production
RNT Cottesloe Theatre
(2010)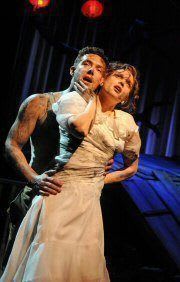 Laurie Sansom's companion piece to Eugene O'Neill's Beyond the Horizon is very different, a social comedy that eventually discovers hidden depths.
Even so, the two plays have many common themes as well as the distinction of being unknown first works by great Americans. Indeed, Spring Storm was so unknown that it took it close to 70 years to make it on to a public stage.
This production becomes a showcase for the talents of Liz White, playing the charmingly but inappropriately named Heavenly Critchfield.
In Mississippi, as the Great Depression plays out, this shallow society beauty vacillates between two suitors, hardly helped by the town's impressive gossip machine or her own mother.
Her lover and soul mate, Michael Thomson's Dick Miles, is restless, a wannabe drifter but well-muscled and clearly good in bed.
Arthur Shannon, played by Michael Mallarkey, could not be more different. He is well-heeled and Oxford-educated, although lacking in common sense and social skills, with perhaps a hint of an underlying mental problem.
Once you add in Hertha Neilson, a plain, bespectacled librarian who is a female version of Arthur, you have the standard recipe for a screwball comedy of the period.
That impression is enhanced by a glorious performance from Jacqueline King playing Heavenly's socially climbing mother Esmerelda, aided by sad, maiden Aunt Lila (Joanna Bacon). This busybody mother's desire to have Arthur for a son-in-law must inevitably be played out through her daughter and this is what happens, with sometimes hilarious consequences, especially in a scene where a discussion swiftly descends into the verbal equivalent of fisticuffs.
The changing favours and fortunes among the young quartet fuel what seems like light comedy until a dramatic twist in the final scenes, which have far more in common with the later Williams canon.
Rather than a classical comic ending with a wedding, the finale becomes more of a tragedy, making its audience reconsider all that has gone before.
Spring Storm may not match the prodigious Beyond the Horizon but even so, is worthy of rediscovery, especially for those that might see Heavenly as a young model for Blanche DuBois, a role that would be perfect for the wonderful Miss White in a few years time.
John Johnson reviewed this production at Northampton
Reviewer: Philip Fisher