St Joan
George Bernard Shaw
RNT Olivier
(2007)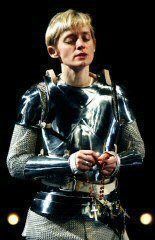 Anne-Marie Duff gives a magnificent performance in the title role of Marianne Elliott's atmospheric revival of a Shavian history play that at times approaches the scope and grandeur of Shakespeare in Henry V.
The Irish actress, using a country accent from home, captures both the complexity and tragic nobility of the fragile French country girl whose unwavering faith was finally rewarded. The wait for beatification was long though, as the church finally canonised her 400 years after it had been instrumental in her burning at the stake.
The Olivier often gets a bad press but a play of this size, with a big cast and 3 1/4 hour running time, fills it well and should prove popular, especially as Travelex have ensured that 2/3 of tickets cost only a paltry £10.
Rae Smith's design is simple, featuring a large platform on a revolve that really comes into its own in a stunning battle scene. This mobilises the dozen or so multi-purpose chairs that swiftly become icons, weapons and musical instruments mobilised by a team of actors who are asked to use choreographed physical skills bordering on dance. The period comes out more from Jocelyn Pook's choral music than the rather bland, timeless costumes.
Unsurprisingly, the chairs make a late appearance at the play's most moving point, forming a pyre on which the brave heroine is burned without apparent fire but with an unsettling, charred aroma lingering afterwards.
The early scenes show a determined Joan winning over her local Squire. Soon enough, she is charming the court and persuading "Charlie" - Paul Ready's ineffectual petulant Dauphin, into believing that he might become King.
His disrespectful supporters and especially James Hayes' stern Archbishop take more winning over but when the British have laid siege to your country, even an earnestly mad rural girl is worth a try as the commander of a desperate army.
The high point in Joan's life is the victory at Orleans as soon enough, an unholy alliance forms between the English under the rule of the suitably phlegmatic Richard of Warwick (Angus Wright) and the church militant, represented by Paterson Joseph's jumpy French Bishop of Beauvais and Michael Thomas as the unholy Stogumber.
After the interval, The Maid faces a trial scene reminiscent of contemporary parliamentary debate at its most rowdy.
The case against her is made by The Inquisitor, played by the perfectly cast Oliver Ford Davies who initially condemns the holy girl to a horrible death in the name of mercy. He is the epitome of calm reason and seems quietly delighted to tell Joan that following her tearful recantation, the death sentence will be commuted to mere life imprisonment.
Marianne Elliott balances drama and politics with quiet contemplation and trademark physical scenes to good effect.
Throughout this engrossing evening, which feels nothing like its length, Anne-Marie Duff shines, whether as a fearless slip of a girl fired by belief or a (slightly older and wiser) woman defending herself courageously before church and state send her to an undeservedly premature death.
Reviewer: Philip Fisher