Women of Troy
Euripides, from a version by Don Taylor
RNT Lyttelton
(2007)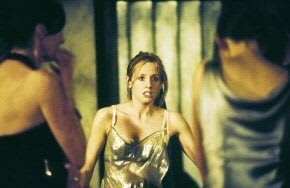 Katie Mitchell's work is so idiosyncratic that it can delight or irritate almost on her whim. She is as close to an auteur as the London stage has at present, and pleasingly, she is very much on song with this wholly unorthodox, but very intense, modernised Greek tragedy.
Miss Mitchell is big on both loyalty to her ensemble and the desire to give a strong visual and visceral impression. Her casts generally comprise many of the same actors, with whom she obviously feels comfortable and the creative teams are often familiar too.
Set designer Bunny Christie and her costumier Vicki Mortimer work hard to achieve something really special and succeed. The ostensibly ancient Greek drama is set in a noisy factory, possibly in Sarajevo or its environs, today.
There, a bevy of Trojan women in designer evening wear have been trapped by war, captured by the Greeks as a revenge for the acts of their faithless countrywoman, Helen.
The mythical beauty herself, is trapped in the cheap offices overlooking the factory floor, thus separated from the women who hate her with a vengeance that can only be understood after one observes them being forcibly prostituted, so many having already been widowed by their warlike enemies.
The play is naturally episodic and this allows the director to indulge her love of dramatic effect, trying out styles of performance both for effect and fun, well supported by the whole of a really talented and committed cast.
One issue with Miss Mitchell's stagings is her fondness for having actors perform across the stage rather than towards the fourth wall and the audience. This can look good, as the director has demonstrated so often but on this occasion renders the protagonists in the opening scene, Kate Duchene as Queen Hecuba and Sinead Matthews as her madly prophetic daughter Cassandra at best barely audible.
Even so, the fire-raising seer's hysterical response to an unwanted marriage is dramatically and chillingly realised. Similarly, Anastasia Hille is unbearably moving as widowed Andromache, who barely stand after realising the dreadful fate that awaits her baby boy, merely because he is son to great Hector.
Much to the pleasure of the chorus and Queen, following the arrival of her resentful, cuckolded husband (Stephen Kennedy's Menelaus), Helen is dragged away to what might be seen as her deserved fate but not before Susie Trayling offers an impassioned speech in her character's defence.
However this might have been unwise, as history informs us that condemning an immortal such as Aphrodite in order to save your own skin is not always the wisest policy,
With intervals of ethereal music and movement, to calm the nerves and slow the pace and an impeccably drilled chorus, Miss Mitchell builds the 75 minute play to an explosive finale both literally and metaphorically, which leaves the audience almost literally stunned.
This new rendering of Don Taylor's c. 1990 version may not be tragedy as we know it but as a characteristic on form Katie Mitchell piece, it might just be Greek tragedy as we should see it today.
Reviewer: Philip Fisher