The Veil
Conor McPherson
RNT Lyttelton Theatre
(2011)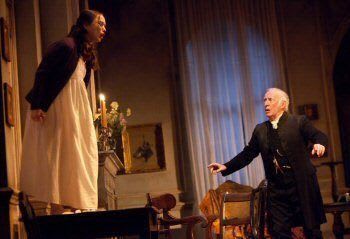 With The Veil Conor McPherson has, to a degree, left his comfort zone. Though the play is set in the familiar territory of his native Ireland, the popular writer, who also directs, has stepped back in time to the early 19th Century for what can be an unsettling story packed with metaphysical mysteries.
While his breakthrough play The Weir is evoked as characters line up to tell ghostly stories in front of an open fire, viewers are more likely to think of The Cherry Orchard. Like Chekhov, the Irishman views the wealthy (Anglo-Irish in this case) upper classes on the brink, as the country starves around them.
Despite the Lambrokes' own relative privations, Fenella Woolgar's widowed Lady Madeleine is obliged to support a cast of eccentric hangers on, while denying love for a steward, Peter McDonald as Fingal.
The family's redemption appears to lie in an unwanted but diplomatic marriage for her 19-year-old daughter Hannah, played by Emily Taafe.
The scene is set by Rae Smith's Gothic living room design that wreaks of faded grandeur. While the roost might be ruled by the mistress, the daily operations are in the hands of Mrs Goulding, a housekeeper played by Bríd Brennan. She specialises in turning a blind eye to the madness that becomes increasingly prevalent so that Lady Madeleine's totally batty mother-in-law Grandie, wittily played by Ursula Jones, eventually seems no worse than the rest.
For the most part the odd behaviour is fuelled by liquor and laudanum. Two visitors from London come to accompany Hannah to Northampton for her wedding.
McPherson regular Jim Norton, portraying a vicar cousin who has been defrocked, and his author friend Audelle, (Adrian Schiller) become amateur Ghostbusters, interested in the visit because Lady Madeleine's husband hanged himself.
The characters behave strangely as a family-owned slum collapses and more and more ghosts are dreamed up in tales that provide no obvious coherent message. A symptom of mixed-up thinking might well have been that rarity, an experienced actor having to call for a prompt on opening night.
Those are the main elements around which McPherson weaves his trademark tall tales. On this occasion though, too often we face the inexplicable explained inexplicably in a play the purpose of which gets lost long before the end.
Reviewer: Philip Fisher