Welcome to Thebes
Moira Buffini
RNT Olivier Theatre
(2010)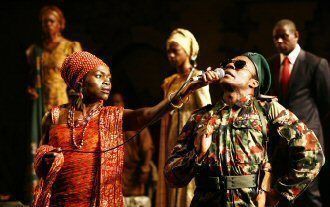 The National Theatre's annus mirabilis continues. Six months in, 2010 has provided an almost unbroken stream of hits.
Welcome to Thebes is a wonderfully ambitious updating of Greek mythology by Moira Buffini, who offers us a racy modern story with appropriately uncompromising, poetic language and a feminist slant.
The playwright is helped in bringing her own sometimes subverted brand of mythology to the stage by her director, Sir Richard Eyre. The former Artistic Director of the theatre obviously relishes the chance to work in a reputedly tricky space and has the remarkable knack of faultlessly moving an oversized cast around the Olivier stage without any apparent effort.
Miss Buffini has moved the story of Thebes to some unnamed African country today and it is chilling to see how little feels out of time or place.
Thebes is under the leadership of a parliament of women fronted by Nikki Amuka-Bird's Euridyce. She has her work cut out to remain in power as competing groups lay claim to her throne.
The most powerful are the Athenians under the powerful Theseus, played with oodles of charm by David Harewood. Their imperialist tendencies might bring to mind inevitable contemporary parallels, as Theseus tries not only to get what he wants from the war-torn state but also its attractive President.
He seems positively benign when compared with vain warlord "Prince" Tydeus (Chuk Iwuji) and his vengeful sidekick Creon's widow and Euridyce's sister-in-law Pargeia (Rakie Ayola).
There are many other undercurrents to pack out a bloody but highly entertaining 2¾ hours. On stage, we see the torment of Antigone (Vinette Robinson) over the unburied corpse of her brother Polynices contrasted with the indifference of their gorgeous (and doesn't she know it) sister Ismene (Tracy Ifeachor).
They are ineffectually courted by the first of two blind men, Euridyce's good-hearted son Haemon (Simon Manyonda).
All is watched over not only by the Gods but also blind Tiresias, who is memorably portrayed by Bruce Myers. The old man is both a reminder of the state's sordid past and a seer predicting a future that is bad for all. The worst sufferer is Theseus himself, perennially worried about telephonic silence of his wife Phaedra and son Hippolytus, with cause.
Chuck in a few child soldiers and reports of atrocities perpetrated by all and you have a play that successfully links its mythical roots to the modern world.
To enjoy Welcome to Thebes to the maximum, it helps to have at least a rudimentary grasp of Greek myth either from past experience or the playwright's helpful programme notes, if only to get some of the dark in-jokes. However, newcomers should still take away a great deal from this lively, action-packed new version in a fine production.
The risk is also minimised, since Travelex are sponsoring the play as part of their latest £10 season. As such, this must be one of the best entertainment bargains currently available in the capital.
Reviewer: Philip Fisher