The White Guard
Mikhail Bulgakov, a new version by Andrew Upton of The Days of the Turbins
RNT Lyttelton Theatre
(2010)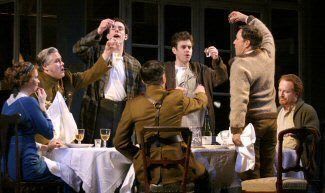 Just when you think that the National can't get any better, it does: London Assurance was a sublime comedy experience but The White Guard operates on many more levels, having the complexity of a novel, which is how it was originally created before conversion to a play originally entitled The Days of the Turbins.
What starts out as biting political satire, not very subtly taking pot-shots at Stalin from behind the cover of the Russian Revolution as The Great War ended, expands out into a tragically moving tirade against the pointlessness of nationalism and the wars that it so regularly engenders.
Mikhail Bulgakov is loved for Master and Margarita but this epic play almost matches that masterpiece and, in its depiction of the stresses that war imposes on peaceful people, could bear comparison with Pasternak or Tolstoy.
The opening scene is set in the Kiev apartment of the Turbins, White Russian/Ukrainian aristocrats fighting for all that is sacred. There, we meet a bevy of eccentrics, circling around beautiful, stoic Lena, played with compassion and humour by the excellent Justine Mitchell.
The destiny of this group has been decided by fate but neither they nor we know it. Therefore, it is possible to revel in the high jinks of a group that includes raucous soldiers like Paul Higgins' Viktor, sleazy cowards such as Elena's ministerial husband Talberg (Kevin Doyle), freedom-fighting intelligentsia personified by Daniel Flynn playing her brother Alexei, and a lovably lascivious opera singer, Conleth Hill in fine form as Leonid.
Australian playwright Andrew Upton escapes from the shadow of fame as Mr Cate Blanchett with a new version that uses slangy, modern language to give history immediacy. He is aided by the impeccable judgement of his director Howard Davies, who walks a tightrope between light-hearted comedy and tear-jerking pathos without putting a foot wrong in an exhilarating 2¾ hours that flash by.
The vodka-fuelled homely feeling leads us into the belief that everything will come out OK but a sight of Anthony Calf's bombastic, hegemonic Hetman, a proto-Ukrainian leader with a swagger but nothing more, soon disabuses viewers, even before he shamelessly ducks out in disguise, leaving his people to their terrible fate.
That story becomes familiar, as one faction after another takes brief control until, at the death (and after far too many), the Bolsheviks make an arrival in the kind of ending that Chekhov loved, as those remaining are forced to accept the need to endure whatever fate might choose to bring down on their heads.
The remarkable thing about The White Guard is that, even amid truly shocking depictions of the horrors of warfare, which literally left this viewer shaken, Bulgakov never loses his vision that this is all somehow comic and cannot be taken entirely seriously.
With a marvellous ensemble and fantastic story helped immensely by evocative, period set and costume designs by Bunny Christie, Upton and Davies give us a treat that deserves to sell out immediately and if any enterprising director and producer can be found, would make a wonderful movie.
It might also help to remind visitors that Bulgakov is a modern great and send them back to his other works, which are filled with similar pleasures. Do not miss out, book today and start building up the anticipation for an unforgettable night out.
Reviewer: Philip Fisher