The Metamorphosis
Choreography by Arthur Pita
ROH2
Linbury Studio Theatre Royal Opera House
(2011)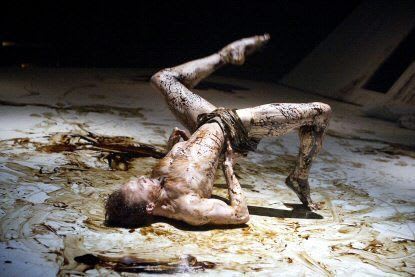 Its infinite metaphorical and symbolic possibilities inevitably attracting multiple interpretations, Kafka's 1915 novella has had many versions, film and stage. Irresistible for physical and dance theatre, Gregor Samsa's transformation is a challenge for performers and choreographers.
Arthur Pita's version at the Linbury shines with fierce clarity, and glowering darkness: a divided self in a parallel universe, a Jekyll and Hyde. Pita casts Royal Ballet principal, Edward Watson, in the lead, and it is his supreme classical ballet trained body, his incredible flexibility, and amazing prehensile long toes with individual joint articulation, quite mesmerizing, wriggling like insect antennae, which is central to the success of his vision. Watson carries the show on his back, so to speak.
An astonishing performance and an astonishing production, half East European moral fairy tale, half Ridley Scott's Alien, with first class work from the entire creative unit. Though ten minutes knocked off the eighty minute running time might make it less numbing. Beautiful detail, stomach churning at times, the emotions can take only so much, especially if one is not a horror movie fan.
On Simon Daw's superb white traverse set of two connecting halves, to mood music, sometimes foot-tapping klezmer, sometimes blues and soundscape, composed and performed in its entirety by the remarkable Frank Moon, and eye-guiding lighting by Guy Hoare, a shocking story is set down before us.
It begins innocently enough - pale Gregor Samsa gets up and goes to work, and repeats this routine three times, with modifications. A wonderful controlled scenario. His family in the white pristine kitchen go about their business, sister practicing ballet steps, mother doing domestic chores and exercises, father reading the paper or watching a television programme about insects, video projection kindly inviting the audience in. Fun for entomologists
Captivating moments recur and accrue, clicks of doors opening and closing, a trolley girl shouting coffee in the morning, and beer, vodka or slivovitz in the evening as she parades before the audience, sound and smoke of trains arriving and departing. An apple left on the edge of the table for Gregor's lunch.
This is the East European half, the Czech Jewish half - speech is in Czech, the three lodgers young rabbis. Poetic licence, Kafka, of course, wrote in German. Czech sounds better. Fits the music. But the close attention to fine detail is stimulating and satisfying. Kafka would appreciate this. Clues within clues.
Adjacent to the family room, horror is taking place behind Gregor's door, as he takes on a new form and a disturbing life a repulsive beetle now, dribbling black bile from its mouth, smearing it across the floor, on the bed, all over his naked, but for white shorts, body. The tidy suit put away, the tidy white room turns into a scene from hell.
Watson draws our focus with his intense performance, and repels with the dire condition he is reduced to in the end - crippled, wet with slime, climbing and hanging off the window pole, besieged by black slithery creatures that climb over his collapsing bedroom walls, ultimately rejected by his family.
Tying himself in yogi knots, limbs twisted, body contorted, Watson is a cause for concern, can his body take so much distortion, can his mind take that internal violence? The pity and the horror, a tragedy in mime, movement, and sound - soulful, sinister, suggestive, a body curled tight, jerking in fitful effort, epileptic, other.
Sister Grete remains his ally for a while, till adolescence takes over. Laura Day (in her final year at the Royal Ballet School) is a charming delight in her pink practice clothes, doing ballet exercises at a kitchen chair. Her acting is very good too - one to note for a promising future.
Bettina Carpi as breezy coffee lady and peasant maid is tremendous - transformed by hair colour and body language - sympathetic to Gregor, not put off by his smell and mess, she's used to clearing up after people.
Nina Goldman as his thin, asthmatic mother, stick-insect-like herself, brings Matthew Bourne experience to her part, and Anton Skrzypiciel a heavy authenticity to the father, distant, with financial problems now that Gregor no longer contributes.
Pita's clever duets for Watson and Day, between parents and daughter, between Watson and Carpi (she lifts him with mop handle) are pitch perfect, and the joyous circle dancing for the rabbis and family in their happier moments are welcome light relief.
A rich and rewarding production, but a gruelling one, a credit to Pita's choreography, direction, and his team, but above all to Edward Watson's exceptional central contribution. I could hardly contain my admiration - and my nausea.
Till 24th September 2011
Reviewer: Vera Liber