The Rake's Progress
Music by Igor Stravinsky, Libretto by W.H.Auden and Chester Kallman
Royal Opera House, Covent Garden
(2008)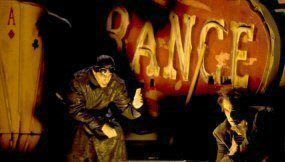 On his debut appearance at ROH, Canadian director Robert Lepage for no obvious reason caused much offence with his production of 1984, seemingly annoying purists more for his reputed financing methods than artistic values.
His second attempt has already played in Brussels, Lyon and San Francisco and is headed for Madrid early in 2009. Here, the home orchestra is conducted by Thomas Ades, better known as a composer but enthusiastic in this role.
Lepage's vision is always somewhere in leftfield and he sees the opera based on Hogarth's cartoons as an opportunity to pay homage to Hollywood 'B' movies from the 1950s. He does this even though the plot is still ostensibly set for the most part in England.
Allowing for this re-setting, the director and his design team are relatively conservative, designer Carl Fillion making good use of computer-generated video graphics created by Boris Firquet, initially using his widescreen to take us to the American prairies, at least visually.
There, we are introduced to Tom Rakewell, who has much in common with Candide over the road at the Coliseum. Charles Castronovo, a talented tenor, plays a young man in love with rich Trulove's daughter. The impecunious Rakewell early on expounds a philosophy that marks him out as a waster: "Let me live by my wits and trust to my luck".
Darren Jeffrey sings protective father well, while the star of the evening, English soprano Sally Matthews, demonstrates a tremendous voice as his sweet-natured daughter Anne.
Tom, though in love with the girl, is enticed by the promises of the magnificently Mephistophelean John Relyea as Nick Shadow, a man whose handshake is as electric as his singing. This rich-voiced devil is first observed emerging from the depths of an oil well, dressed appropriately in oily black, and never looks back.
He it is that draws the would-be hero into a short but dissolute life that reaches its zenith (or nadir) with marriage to a bearded woman, Baba the Turk (Patricia Bardon) before Anne reappears too late, as Tom is already almost through the high-living year and a day after which he must face Shadow's reckoning.
These 366 days of debauchery are played out in widescreen Technicolor and include some memorable images from the Wild West; a car journey through London; the boundaries of the Underworld; a lunatic asylum; an inflatable caravan; and best of all, a doll-sized house with real inhabitants.
Robert Lepage has created a novel evening, complemented by impressive singing especially when Sally Matthews shows off her range as her character plaintively asks "If Love be Love?"
There are some flashes of genius but fewer fireworks from the auteur than usual on this occasion, which might be appreciated by the habitués of Covent Garden, even as it gently disappoints the French-Canadian's world-wide fan club.
Reviewer: Philip Fisher