The Rake's Progress
Igor Stravinsky, libretto by W.H.Auden and Chester Kallman
Royal Opera
Royal Opera House, Covent Garden
(2010)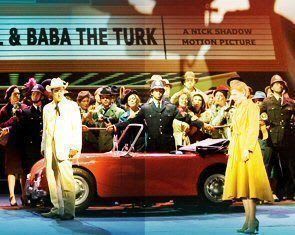 As one of the thousands of opera lovers who until this week had not seen The Rake's Progress, I have a bone to pick with the Canadian director Robert Lepage.
Of course, in view of Lepage's reputation for the use of new technologies, I should - and, indeed, did - realise that this production would break new ground. What I was not quite prepared for however, was the extent of the departure from the original work by librettists WH Auden and Chester Kallman.
I hesitate to apply the same judgement to the impact of this new account on the score of Igor Stravinsky who, it must be said, does rather invite this sort of radical view of his music.
This, I'm assured by those who claim to know, is one of Stravinsky's more lyrical works - shades of Purcell, even moments redolent of Mozart. Well, they could have fooled me!
This opera, new readers should be aware, written in the 1950s, was inspired by eight prints by Hogarth. It charts the downward trail of a young man who acquires wealth and proceeds to invest it in his own descent into madness.
It could be an operatic account of the current financial crisis - alas, that, I fear, is yet to come.
Our story, and my quarrel with Monsieur Lepage (he hails, after all, from Quebec), lies in his transformation of the story from 18th century England to Hollywood and Las Vegas.
Even that might have worked more happily had it not been for the fact that the new production sticks firmly to the original '50s text. This is something I would normally applaud yet here we have visions of the American Dream confusing us with references to Georgian London.
Enough of that for the moment since this is opera and the work of all the singers is highly commendable. I am particularly impressed by the singing and verve of the young tenor Toby Spence. His is almost a tour de force, my only reservation being that with his slight, neat physique he does continually remind one of the young choral scholar he once was.
Welsh soprano Rosemary Joshua is a fresh nightingale as Anne Truelove. William Shimell is in splendid voice returning to the role he played in Brussels, in place of the absent Kyle Ketelsen, as the Mephistopheles figure Nick Shadow.
There is a splendidly rich performance as Trulove by Jeremy White and mezzo Patricia Barddon is in fine voice and character as Baba the Turk.
Some strange settings - the pumping oilrig for a picnic, the inflatable trailer and the fanciful realisation of Tom's magic bread maker - are realised by designer Carl Fillion with video design by Boris Firquet.
The conductor for this week's performances is Ingo Metzmacher, Principal Conductor of the Deutsches Symphonic Orchestra, Berlin. And while there has been some criticism of the musical contribution to the production, Tuesday's performance did not give me any cause to add to this, particularly in view of the warm reception the players received from a full house at the final curtain.
All that said, I cannot resist the conclusion that, as in the case of The Lady Vanishes, if you attempt a Hollywood remake, you just might end with a turkey!
This co-production with Theatre Royal de La Monaic, Brussels, Opera National de Lyon, San Fransisco Opera and Teatro Real Madrid in collaboration with Ex Machina, Quebec may be seen at the Royal Opera House, Covent Garden on January 28th and 30th and on 1st and 3rd February at 7.30 pm.
Reviewer: Kevin Catchpole