As You Like It
William Shakespeare
Royal Shakespeare Company
Novello Theatre
(2006)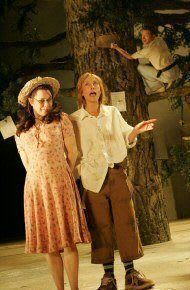 After last year's star-bound disappointment, in which the producers left Helen McCrory and Dominic West high and dry, this is the real thing. The RSC's season of comedies started well, hit a real peak with A Midsummer Night's Dream and stays up there with the final play of the series.
Dominic Cooke will soon be leaving Shakespeare behind, if he follows the current policy of exclusively providing new plays when he takes over from Ian Rickson at the Royal Court. That will be a real loss, even though there should almost inevitably be great compensations. His interpretation of this pastoral comedy of love and misunderstanding is so light that 3¼ hours slide effortlessly by.
The action takes place in the shadow of a gigantic greenwood tree, designed by Rae Smith, that eventually becomes something of a star as a loving go-between but initially overshadows the malice of two evil men. These are a Duke who has banished his predecessor and a brother who would kill his sibling.
The consequence of such treachery is the banishment of a troop, who between them, entertain and amuse in weather conditions that change from snow to summer sun, as swiftly as the worthy Jonathan Newth magically converts himself from good Duke to bad and back again.
The cheery, not to mention noble and generous, Duke Senior and his band have already made the forest their home by the time that Barnaby Kay's always exuberant Orlando flees there from his brother. He is soon followed by his love, Senior's daughter, the bold, belligerent Rosalind who is accompanied by her spunky, devoted cousin Celia.
It is Amanda Harris in the latter part, who is as much the making of this production as Sienna Miller failed to be in support of Miss McCrory. It is possible that the RSC could provide Miss Harris with a stream of best supporting actress awards from the Olivier's. Following her success as Emelia in Othello, she should be a strong contender for As You Like It and might even be forced to compete with her own Titania in A Midsummer Night's Dream.
This bespectacled and wittily cynical Celia, often in dumbshow, becomes the extremely funny shadow of her cousin when they become cross-dressing, swaggering brother, Ganymede and supportive sister, Aliena the alien. She is like an extra limb for Lia Williams who makes a convincing, if excessively pretty, boy and never loses a mischievous glint in the eye, whatever her apparent gender.
The comedy does not stop with them, as Paul Chahidi makes for a very witty if rather distasteful Touchstone, whom one victim in the front row each evening will struggle to forget in a hurry and as his belle Audrey, Meg Fraser, is reminiscent of a mad, squealing coalman. Even Joseph Mydell playing a precious, melancholy Jaques dredges up humour from his character's downbeat demeanour.
The chase through the forest has many fine moments, as four separate couples and a couple of wannabes seek love, while the exiled Duke awaits an opportunity to regain his throne, which ultimately happens courtesy of an unlikely Deus ex Machina. This, though, is an enchanted world in which not only do evil Dukes see the light but so do wicked brothers.
Dominic Cooke's mixed modern dress (seemingly lavish Edwardian at court but modern in the Forest of Arden) production is nicely judged with a quartet of songs led by Sikh singer Gurpreet Singh.
Like all of the Comedies in this season, the speech could not be clearer, which is a real compliment to director and company. It means that any tourists or schoolchildren who are not familiar with Shakespeare will "tune in" to the fun very quickly, although on the opening night, they had to wait for the mobile phones to stop ringing.
Reviewer: Philip Fisher