Twelfth Night
William Shakespeare
Royal Shakespeare Company
Novello Theatre
(2005)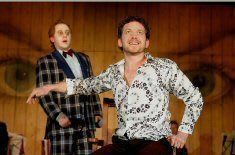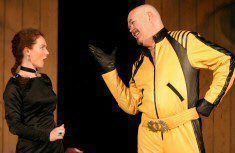 The strength of this RSC Twelfth Night lies almost entirely in the comedy, as well as very clear interpretation and verse speaking.
The RSC's artistic director Michael Boyd sets this version in the current time with modern images and contemporary jazz, played by an eight piece band who periodically make it on to the stage, to accompany the action.
He starts with an amazing visual delight, as Viola and companions descend from the flies while music stands and even a piano swirl in the opposite direction. Rarely can the vasty depths of the sea have been so cleverly realised on a dry stage.
In Illyria, a lazy Orsino (Barnaby Kay) worships stern, mourning Olivia (Aislín McGuckin) but life is dull for both. The lady's cousin and his three pals inject great comedy though and all four actors play their part well in a combination of slapstick, bawdy gags and at times comic cruelty.
Clive Wood as a lively Toby Belch and John Mackay's clumsy, coltish Andrew Aguecheek behave like a pair of pubescent boys. They desperately need the guidance of Meg Fraser's naughty Maria and the Fool, Feste. The latter is played by Forbes Masson, one of half a dozen Scots in the cast. He has great wit together with talent as a jazz singer and pianist and switches ably between the music and acting.
The plot develops as washed-up Viola (Sally Tatum only a year out of drama college), dressed as a male punk, is billeted with Orsino and, in carrying his suit to Olivia, drives the lady mad with lust. This may be a little surprising as while Miss Tatum speaks beautifully and shows a good sense of humour, she hardly convinces as a young man.
The gigantic Richard Cordery is, like Orsino and Aguecheek, a suitor to Olivia. This pompous, Stephen Fry-type almost brings the house down when he appears in tight yellow biker's leather and black crash helmet.
All ends well, although the drunks get a little battered and Malvolio is left out of sorts. By then, confusion with twins male and female has been resolved and three marriages arranged.
There are many funny moments and Michael Boyd wrings all possible humour out of the text. However, the love and romance are not really there so this ends up as a flawed but entertaining Twelfth Night.
Peter Lathan reviewed this production at the Theatre Royal, Newcastle.
Reviewer: Philip Fisher