American Trade
Tarell Alvin McCraney
Royal Shakespeare Company
Hampstead Theatre
(2011)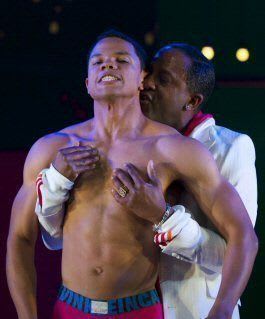 As a general rule, the Royal Shakespeare Company is expected to produce high quality versions of the plays written 400 years ago by their eponymous genius. The idea that they run contemporary works alongside the Bard is also well established, typically picking up on themes from his plays.
More recently, they have also sought to confound their audiences with avant-garde works that branch out into unexpected areas.
American Trade by American playwright Tarell Alvin McCraney, who made such a big impact with his British debut, The Brothers Size, is primarily a sex romp. It relies on a very loose plot that has been created to compare and contrast the sharp end of the British and American cultures today.
Jamie Lloyd's production takes place on a set that is on the border between graffiti and pop art. With its associated neon lighting, one almost wonders whether designer Soutra Gilmore has been asked to create a space that could double up as a modish nightclub after the show has ended.
The play's central figure is Tunji Kasim's Pharus, a surprisingly cultured but suitably muscled New York rent boy. After offending the local hip-hop hero, Clarence Smith as Jules, he skips town accepting an invitation from an unknown English auntie, played with gusto by Sheila Reid. Racy Aunt Marian runs a modelling agency that has probably seen better times.
Her motives for bringing the young American across the Atlantic are not entirely clear, but the desire to make life difficult for her stressed-out daughter Val (Sophie Russell) is somewhere near the top of the list.
Before even making it through customs, Pharus has begun to set himself up in an alternative trade, beginning to gather together an eccentric team of professional (in the sordid sense) men and women with the goal of using the agency as a front for a brothel.
The comedy hots up as Val and Pharus get into each other's faces and Jules comes over to England, though quite why is not entirely clear. Rather than ending happily ever after, American Trade merely finishes abruptly with the distinct danger that the majority of its audience members will have enjoyed a breathless 90 minutes, without ever really getting an idea of any particular underlying meaning.
Reviewer: Philip Fisher