Julius Caesar
William Shakespeare
Royal Shakespeare Company
Theatre Royal, Newcastle
(2009)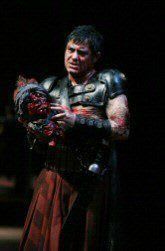 The (devised by director Lucy Bailey) opening says it all: crouched and snarling like two wolves beneath the Capitoline bronze of the she-wolf suckling them, Romulus and Remus fight to the death. Romulus' howls of triumph merge with the celebrations of the Lupercalia as men in wolf's head masks lash the citizens of Rome, only to be interrupted and driven from the streets by Tribunes Flavius and Murullus for their fickleness in supporting Julius Caesar who has defeated their former hero, Pompey.
Internecine strife and blood-letting between brothers and within the state; blood-soaked violence and death; the inconstancy of the plebs: these are the themes of Bailey's production of Julius Caesar, starkly set out from the very start.
The story is played out out against a backdrop of grey moving panels (set and video design by William Dudley) onto which is projected video of seething crowds (whose gestures, distorted somewhat by the angle at which they are projected, seem almost ritualistic), behind them a barely-glimpsed mirrored back wall. But when the live actors join the projected crowds and begin to repeat the same gestures, it just seems strange, at odds with the reality of the rest of the onstage performance.
Above these panels yet more video on a stage-spanning screen shows, initially, the Bronze, then variously the Lupercal amphitheatre, a burning cityscape, clouds, smoke and other reinforcements of what is being enacted on stage.
Bailey moves the play along at a cracking pace and there is a sense of inexorability as events unfold.
And yet the production never quite catches fire. Greg Hicks' Caesar is supremely arrogant and Darrell D'Silva's Mark Antony is much more the dissipated man who "revels late o' nights" than I have ever seen before. Sam Troughton's Brutus is internally torn between his personal love for Caesar and his sense of honour and, unable to see that almost every decision he makes is the wrong one, blindly rushes to his own (and all the conspirators') destruction. John Mackay's Cassius has the right mixture of patrician arrogance and envy.
What is missing is real depth of passion. It is there in Hannah Young's Portia, a performance which - for the first time for me at any rate - makes her self-inflicted wound and death by swallowing fire entirely believable, but lacking in the principal characters who react within a curiously limited emotional range.
There is much to admire in this production but real depth seems to have been sacrificed to concentration on the visual, in which I include the costumes by Fotini Dimou, the movement by Sarah Dowling, the fight sequences by Philip d'Orléans and Oliver Fenwick's lighting as well as Dudley's video.
Kevin Quarmby reviewed this production at the Courtyard, Stratford. It was also reviewed in 2011 by Pilip Fisher at The Roundhouse.
Reviewer: Peter Lathan