Julius Caesar
William Shakespeare
Royal Shakespeare Company
The Roundhouse
(2011)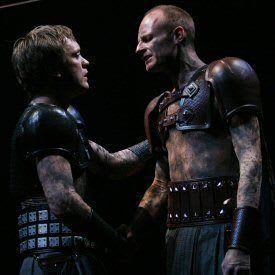 Lucy Bailey has developed a good trade in in-yer-face style Shakespearean productions. She is big on atmosphere and never afraid to let the stage blood flow. This works well in this RSC production of a play whose central moment is the bloodiest of murders.
To create that atmosphere, designer William Dudley uses projections on a large screen and also six smaller mobile ones at stage level to complement the drama. In particular, his virtual crowd scenes add an extra dimension.
He also compounds the story with low lighting, increasingly roughed up Roman costumes and lashings of dry ice.
This is the setting for actors who are now familiar to those who have attended some or all of the three plays earlier in the season.
Julius Caesar is played with due nobility and excess of pride by Greg Hicks. He presides over a country prone to drunken revels and ripe for revolt.
That comes courtesy of as evil a team of senators as one could wish to avoid. Sam Troughton makes Brutus seem just a little unhinged, unlike Oliver Ryan 's Casca who is positively psychotic. Next to them, John Mackay playing Cassius comes across as entirely reasonable, somehow equally chilling in a man calmly plotting the assassination of his country's ruler.
It always seems strange that the main character should disappear long before the interval in this play but he remains around to haunt his murderers and. in particular, "the noblest Roman of them all", Brutus.
Caesar's death introduces anarchy but before that come three speeches, all delivered with great panache. First, Darrell D'Souza as Mark Antony privately bemoans the loss of his friend.
Then, before the people, Brutus delivers a mournful but triumphal speech looking to better times ahead following the death of a tyrant. However, as he had been warned, this merely provides a springboard for Mark Antony.
D'Souza delivers the "Friends, Romans, Countrymen" speech dramatically, beginning with venomous anger, before ironically praising the "honourable" men who want to lead, in doing so condemning them and winning over the people with his passion as much as his oratorical language.
From there, a battle to the death is inevitable and by the end, suicide has become de rigueur by the time that the status quo has been restored with the accession of Octavius Caesar.
This production is always visually appealing and a brass band is particularly effective in the battle scenes. The acting is strong throughout, with Darrell D'Silva particularly memorable for his earth shattering speeches.
Lucy Bailey's robust directing vision works well in this Julius Caesar and the RSC ensemble respond positively, working together to ensure a memorably dark new version of a play that is rarely brought to the stage as convincingly.
This production was reviewed in 2009 by Kevin Quarmby at The Courtyard, Stratford, and Peter Lathan at the Theatre Royal, Newcastle
Reviewer: Philip Fisher