The Canterbury Tales
Geoffrey Chaucer, adapted by Mike Poulton
RSC at the Swan Theatre, Stratford
(2006)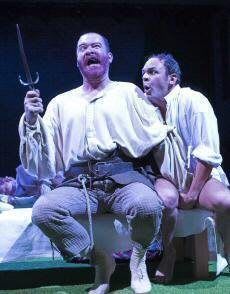 With only a few months to go to the Complete Works of Shakespeare Festival, the RSC is filling its winter season in Stratford by producing plays from the pen of other masters of the English language. While Dickens' Great Expectations is continuing in the main theatre, the Swan is offering The Canterbury Tales - and has come up with a clever piece of marketing.
Mike Poulton's new adaptation is in two parts which needn't necessarily be seen in the correct order. Such is the strength of the writing and the performances that anyone who buys a ticket for one half will no doubt want to see the other as well. That's how I came to watch both parts on the same day, with part two coming first.
Many commentators marvel at Shakespeare's ability to address the concerns of today's audiences with plays that were written 400 years ago. Yet it was 200 years before that when Chaucer penned his account of the "full nine and twenty" pilgrims setting off from the Tabard Inn on the road to Canterbury. The moralistic stories of love, sexual discrimination, revenge and forgiveness are probably more relevant today than when they were first seen.
Mark Hadfield, an almost weasel-like figure who quaintly gets in the way as the narrator Chaucer, starts part one speaking in olde English - and you could virtually hear the astonishment of the audience who wondered what they'd let themselves in for. Seeing part two first has its advantages - I realised he wouldn't be speaking like that for long before he settled into a more colloquial language which was easy to comprehend.
At one point he even breaks into a rap routine, proving that Chaucer can speak to contemporary audiences - given a little help.
All the tales that are well-known, such as the Knight's, the Miller's, the Reeve's in part one and the Wife of Bath's and the Merchant's in part two, are included as well as a few others that aren't so familiar.
Part one is probably slightly better, with the Miller's and Reeve's tales proving as bawdy as Chaucer intended. They're so astutely staged that even people who don't usually find lavatorial humour to their taste will probably be amused. A tuneful farting session that rivals the campfire scene in Blazing Saddles is especially funny.
There's plenty to enthuse about in The Canterbury Tales. The directing team of Gregory Doran, Rebecca Gatward and Jonathan Munby bring out every possible witticism of Chaucer's and Poulton's writing. The Nun's Priest's Tale brings part one to a close with a selection of farm animals ingeniously portrayed by members of the company, with a fox and chickens proving especially comical. If that doesn't have you clamouring to see the second part, I don't know what will.
Designer Michael Vale has come up with an intriguing scene in the Knight's Tale, with two actors appearing on contraptions like stilts which help to create the illusion of their being on horseback.
Claire Benedict delivers a lovely portrayal of the Wife of Bath who gave as good as she got to her five husbands, while Paola Dionisotti is exemplary in the same tale as an old crone and also as the overly pious Prioress.
The Canterbury Tales does have a few flaws: I found The Prioress's Tale in part one very stodgy; the penultimate tale by the Manciple which was performed as a miniature opera didn't excite me; and The Merchant's Tale faded out somewhat unsatisfactorily.
But while Chaucer's pilgrims didn't make it to Canterbury, Poulton's travellers do and there's a rousing finale to celebrate the end of their journey.
Each part is a lively, boisterous, entertaining offering which benefits from being in the intimate Swan Theatre. And that's no tale.
"The Canterbury Tales" runs until February 4th before going on a nationwide tour
Philip Fisher reviewed this production on its transfer to the Gielgud Theatre.
Reviewer: Steve Orme