The Canterbury Tales
Geoffrey Chaucer, adapted by Mike Poulton
Royal Shakespeare Company
Gielgud Theatre
(2006)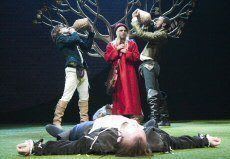 This is the kind of thing that only the RSC or possibly the National Theatre have the resources to do and generally the Stratford company excels in its forays into classic literature.
Adapting major works into dramas that take an afternoon and evening, in this case 5¾ hours divided into two parts, requires tremendous ingenuity and imagination in order to avoid repetition and, not too far behind, boredom.
In this case, the RSC have invited three directors, Greg Doran, Rebecca Gatward and Jonathan Munby, to join together to bring Chaucer's work to the stage and inevitably with one experienced and two up and coming directors, the style and quality are variable.
Their 20-strong ensemble cast is universally excellent and rather than selecting individuals this review acknowledges all and merely selects the best of each gender. Mark Hadfield holds things together as MC and author Geoffrey Chaucer. He scares the hell out of viewers at the beginning with a language and accent that may appeal to Chaucerians but sounds like Swedish to a standard theatregoer. Soon though, he relents and we move into a more familiar, generally modern language in Mike Poulton's new adaptation.
Even this has odd rhymes and pronunciations to remind us of the period, enhanced by the colourful costumes and versatile three-piece band.
What unifies the production is a sense of fun and a clear desire to use every facet of theatrical performance to keep the audience on its toes. There is physical theatre including a joust on stilts, puppetry, comedy in every form from the crudest sight and sound gags to the far more subtle; and, above all, punning.
The first half of the opening session adaptation gets things off to a tremendous start with The Knight's Tale, a medieval romance of Theseus and two incarcerated cousins who fall in love with the same woman followed by two hilariously bawdy sex romps. The Miller's Tale follows a cuckolded carpenter and The Reeve's Tale tells of a miller with straying lady folk. The comedy is ripe and the audience get more than their fair share of laughs.
After the pre-prandial interval, the pace slows too far with the Clerk's somewhat turgid tale of noble Grisilde, like Cinderella plucked from obscurity to become a noblewoman. She is sorely tried by a husband who should have stuck with an arranged marriage to one of his own kind. However, in an unexpected turn, the overly-honourable lady eventually gets her reward on earth, as she is at last allowed to become a real wife and has her lost children returned.
Following some worthy shorter pieces that do not wildly excite, the afternoon is rounded off with The Nun's Priest's Tale, comic fable featuring some bible-reading chickens and a fox that sounds like the great-great-grandfather of Basil Brush. This allows many members of the strong ensemble to have a lot of fun playing at being a human menagerie.
After a break for an early dinner, the slightly shorter second half commences with a trio of morality tales all of which make their points with delightful storytelling. The first is The Pardoner's Tale in which three young bucks challenge death and says makes some telling points about greed and a love of alcohol.
This is swiftly followed by the most moving of the fifteen or so stories, The Physician's Tale, in which a noble Roman offers his 14 year-old daughter the choice of death or shame after her beauty takes the eye of the lecherous governor. Watching a father behead his innocent daughter is hardly comfortable to say the least but in the context of half a dozen or more tales in which honour gives way to lust, this story hits home in every sense.
Our next speaker, The Wife of Bath has an accent that sounds rather more West Indies than West Country. The evening reaches its peak in this Arthurian tale featuring the show's female star, Paola Dionosotti.
This is a story of a lecherous knight who gets his comeuppance when, after raping an innocent virgin, his Queen sends him in search of the secret of what women want from men. He establishes this but as a penance, is forced to marry the old crone (Miss Dionosotti) who has helped him. After leading him a merry dance in bed, froglike she turns into a beautiful princess. The evening closes with a disappointing musical comedy, The Manciple's Tale, in which we learn why the crow is black.
There is something for everybody to enjoy in this lengthy reworking of Chaucer. For those who loved the RSC's Tales from Ovid, this show is a must and while its comedy generally outstrips the more serious tales, there are far more hits than misses.
By the end, viewers will undoubtedly have derived much pleasure, if feeling a little weary after so long in a theatre. You don't survive a millennium without having something special to offer and this Stratford transfer allows visitors to discover or recall just how good and wide-ranging an author and observer of mankind Geoffrey Chaucer was.
Steve Orme reviewed this production at the Swan in Stratford
Reviewer: Philip Fisher