The Comedy of Errors
William Shakespeare
Royal Shakespeare Company
Novello Theatre
(2006)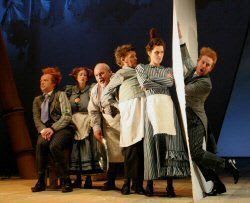 Nancy Meckler, best known for her work with Shared Experience has taken a most unusual view of this second Shakespeare comedy to transfer to the Novello from Stratford. This RSC production is very much director's theatre and it is likely to polarise opinion.
The Comedy of Errors is played here in a highly physical style, which is like a cross between a slapstick movie and a cartoon. All of the acting is deliberately over-the-top and greatly stylised, with strong elements of often very funny circus clowning to the fore. In addition, there are a handful of songs, mostly in the style of Kurt Weill.
It is likely that the immediate reaction will either be "what fun" or alternatively, "why couldn't she trust the text and leave well alone?"
The story may be familiar. Ephesus has developed a strong aversion to visitors from Syracuse. Therefore when old Egeon (Richard Cordery) is washed up on its shores, he is immediately incarcerated by Neil McKinven's Duke.
With the help of puppets, the unlucky prisoner tells a sad tale of a shipwreck, similar to that of Twelfth Night, which divided him from his wife but also divided two pairs of identical twins, their own sons and those of their servants.
Confusion now reigns as Antipholus of Syracuse, played by Joe Dixon, is mistaken for his unknown twin and invited into the bosom of his new family by wife Adriana (Suzanne Burden). With him is his red-bearded bondsman, Jonathan Slinger's Dromio of Syracuse, who looks uncannily like Tintin with his gigantic ginger quiff.
For the home team, Christopher Colquhoun is Antipholus of Ephesus and Forbes Masson, the pick of the cast, his highly flamboyant Dromio. The Dromios look so similar that it can be difficult to know which is which, probably a rather confusing bonus and certainly how things should be.
For two-and-a-half-hours, the clowning carries on, sometimes proving extremely amusing at others tending towards the wearisome until at long last, we reach a very touching finale. Not only are all of the brothers reunited with their pairs and old Egeon but an abbess played by Frances Jeater is revealed to be his long-lost wife.
The whole is accompanied by a five-piece band who remain on stage throughout providing silly noises to enhance the clowning, in addition to their jazz influenced music, composed by Ilona Sekacz.
At times, the effect is far from what might have been expected from Shakespeare although the speaking emphasises the verse and is generally very clear.
From the description, readers should know whether they will love or hate this singular production and, if they are in the former group, will undoubtedly deliver rapturous applause at the end of a fun-packed evening.
Steve Orme reviewed this production at the Royal Shakespeare Theatre, Stratford, and Peter Lathan reviewed it at the Theatre Royal, Newcastle.
Reviewer: Philip Fisher