Dunsinane
David Greig
Royal Shakespeare Company
Hampstead Theatre
(2010)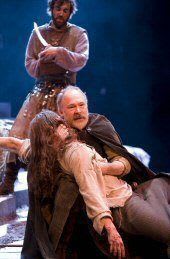 On the basis that Shakespeare probably did not write all of his plays, if anyone wanted to add a 38th work to the canon, Dunsinane would be a worthy candidate. Admittedly, in the sequel to Macbeth commissioned by Michael Boyd for the Royal Shakespeare Company, David Greig perhaps wisely avoids the temptation to use 17th-century language or verse.
Where he succeeds in emulating the creator of the original Scottish play is in the breadth of the plotting and politicking and also the intricate characterisation. This extends beyond the three main characters to others with tiny parts whom you feel that you know well within a couple of minutes of hearing them speak or seeing the way in which they behave.
Strangely, the main protagonist is an Englishman who is often edited out of productions of the Scottish play. In Dunsinane, the symbolic cuckoo Siward, played by Jonny Phillips, is a general sent to Scotland to sort out a factional mess that might easily be seen as a metaphor for recent American/NATO led incursions into assorted warring countries.
He ends up leading an army on an interminable search for an elusive peace, from which honourable retreat somehow becomes impossible until they discover themselves dispiritedly announcing "we shall be in Scotland a little longer than expected".
Siward's initial goal is to restore Duncan's lily-livered but politically astute son, Brian Ferguson's Malcolm, to the throne in the mistaken belief that this will unify the country. While Malcolm manipulates the Englishman through subtle use of apparent weakness, an alternative pretender to the throne is put forward in the person of the adopted son of the recently deceased king, known only as the Tyrant.
The youngster's claims are pressed by his majestic mother Gruach, played with suitable nobility by Siobhan Redmond. The Scottish actress with flowing, flame-coloured locks and regal robe looks gorgeously Pre-Raphaelite, bringing to mind like John Singer Sargent's portrait of Ellen Terry as Lady Macbeth at Tate Britain.
Part Cleopatra, part Lady Macbeth, this queen is more than a match for the Englishman who briefly becomes her Antony and the Scottish king fearful of showing the kind of strength that will almost certainly lead to an early death.
For 2¾ hours, the claims to the throne are pressed as soldiers and civilians fall by the wayside in a bloody guerrilla-style war that ends in a beautiful, snowy scene of cathartic closure.
Each of the main characters is a marvellous creation, really fleshed out to become both memorable and credible, as they flatter and deceive each other in their attempts to achieve conflicting goals through a series of unholy alliances.
Under the direction of Roxanna Silbert, who paces the production expertly, a largely Scottish cast offers strong support to the leads, each of whom excels. Ewan Stewart's Macduff is particularly touching as he recalls the loss of his family in the earlier play, Sam Swann makes a highly amusing chorus in the part of The Boy Soldier and Alex Mann becomes the personification of all that is worst in a certain type of greedy, amoral Englishman as Egham, a Lord out to help himself regardless of the human cost.
Designer Robert Innes Hopkins turns Hampstead into a V-shaped thrust, with a Celtic cross overseeing a barren wasteland that confirms the English soldiers' view of the home of their northern neighbours. The atmosphere is heightened by a live trio playing everything from heavy rock to Gaelic folk and a pair of ethereal singers.
Dunsinane is suitably serious when required but rarely grim, leavening the gritty drama with moments of outstanding humour. It could hardly be further from Greig's recent London success, the comedy with soul, Midsummer but is equally entrancing and the ability to switch modes but maintain quality is one of this superlative writer's greatest strengths.
Rather than turning in his grave, it would be good to feel that William Shakespeare might be attempting to get a pass out to check up on what might well be his best work in the last 400 years.
Playing until 6 March
Reviewer: Philip Fisher