Hamlet
William Shakespeare
Royal Shakespeare Company
Royal Shakespeare Theatre, Stratford
(2004)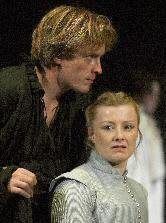 Michael Boyd's first production as the RSC's artistic director - it's almost 18 months since he officially took over from Adrian Noble - was well worth the wait. There can hardly be any new ways of presenting arguably the world's greatest and most performed play - yet Boyd has found one.
Hamlet is a triumph for Boyd; it's also a triumph for Toby Stephens in the lead role and for everyone associated with the presentation. It's superbly acted, sensitively directed and cleverly staged.
Hamlet is the fourth in the Tragedies season which has involved a new way of working for the company. Having seen all four plays, I can report that Boyd's initiative is an unqualified success.
By introducing a longer rehearsal period, Boyd has enabled his actors to concentrate on Shakespeare's verse and try out different ways of interpreting speeches which some audiences can recite verbatim. This gives a freshness to words which were written more than 400 years ago.
I don't think I've ever seen such fabulous troupe as the one in Hamlet. The play needs a number of strong characters to succeed; here no fewer than a staggering eight actors shine.
When Boyd and associate designer Tom Piper came up with their ideas for staging Hamlet, they wanted to concentrate on the political aspect of the play and create a dangerous world with rigid rules, a king who was in control thanks to his bodyguards and the concept of Polonius as a feared spymaster.
The set is fairly basic, with a curved black wall at the back which has several doors and openings to allow eavesdropping. A metal gangway that protrudes into the auditorium provides several fascinating entrances.
Boyd and Piper also wanted to create purgatory - the place where the souls of dead people temporarily go to atone for their sins. The Ghost of old Hamlet is clearly in purgatory - a suffering, tormented creature "doom'd for a certain term to walk the night and for the day confined to fast in fires". This explains why Hamlet, although anxious to take revenge on his father's murderer, turns into the procrastinating prince - he doesn't want to end up in the same place as his father.
Award-winning Greg Hicks, who last year gave us an arrogant yet humble Coriolanus and this season is superb as Macbeth, almost steals the show. He gives the most amazing portrayal of the Ghost: his lath-like frame is bent over, he has sunken eyes, a pained expression and drags his clanking sword behind him as he ponderously labours across the stage.
Hicks then gives us an elegantly restrained interpretation of the Player King, resisting the temptation to exaggerate, taking nothing away from the verse; and later he effortlessly becomes the gravedigger, extracting every bit of humour from the text.
Clive Wood gives a strong performance as Claudius, comfortable with murdering old Hamlet so that he can achieve his ambition of snatching the throne, while Sian Thomas's Gertrude, classically regal, shows a mother's unconditional love for Hamlet whatever situation he finds himself in.
Richard Cordery, an RSC stalwart, is excellent as Polonius, not a bumbling old fool but a formidable, menacing control freak. Meg Fraser gives us a mature Ophelia who is nonetheless frightened of her father. Gideon Turner is a resilient Laertes and Forbes Masson a caring, humane Horatio.
All their efforts would be devalued if the actor playing Hamlet wasn't up to the job. But from his first appearance Stephens is magnificent. He is bored in Claudius's court as he has to sit through how his uncle came to marry his brother; he rages at Claudius during his "O! that this too too solid flesh would melt" speech; he is almost inconsolably angry when he hears of his father's murder; and he gets more than a sprinkling of laughs from those members of the audience who appear fairly new to the play.
Boyd has also assembled a proficient supporting cast. Hamlet is the best offering in a quality season at Stratford; it's almost a faultless production.
Philip Fisher reviewed this production at London's Albery Theatre.
Reviewer: Steve Orme